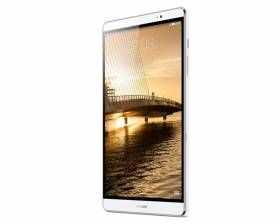 The Huawei Mediapad X2 is an excellent Android tablet, and that includes the price. In Europe you can pick this up for €289 or for €330 with LTE, and that includes sales taxes. I had it for just a few days while I did a Notebookcheck video so I wasn't able to test things like screen mirroring, encryption, MHL, OTG or some of the newer aspects of Android but what I did see was an excellent screen, great design, long battery life, processing and GPU power, AC WiFi and, something that's always on my list for a good tablet, great speakers. It's as good as the Samsung Galaxy Tab S2 8.0 and the Ipad Mini in my opinion but the price makes it stand out. 330-euro for 16 GB storage and LTE. I'd love one, thank-you.
Unfortunately I'm not in the 8-inch tablet game at the moment as my Surface Pro 3 has quite literally taken over almost every non-smartphone task I have but if I was, and I was looking for something capable across the Windows, IOS or Android tablet segment I would recommend this.
And why not Windows?
I'm 'on-hold' with Windows 10 tablets because I need to be sure that the UWP apps are going to develop. If they do then I'd like to see a 7-inch Windows 10 phone (RT-like) tablet for consumers but there's an immense amount of catching up that Windows has to do in the 6-8 inch tablet segment, even if it can support multiple different sized screens and Universal Apps. I've even had products recently that wouldn't work with Windows at all. Windows used to be the king when it came to supporting external hardware but smart watches and IOT objects are all working on Android and IOS first. Recent examples: HDStar WiFi security camera – no Windows app. Basis Peek smartwatch – no Windows app. Huawei Watch – No Windows app.
Oh by the way, that Huawei Watch was a fun experience too but hey, it's a complex, fat bit of kit that needs to be charged every single fricking day. As if my bedside table needs another cable for me to trip over at night. I'm not a fan of current smartwatches although the principle, if you're happy with the privacy aspects, is good. If you look at what happened to tablets over the last 10 years – half the weight, 5 times the battery life, one quarter of the cost, 5 times the power – then it's easy to imagine how smartwatches will develop over the next 10 years.
But let's get back to that Huawei Mediapad M2 8.0. It's great and I recommend it. The reviewers at Notebookcheck also gave it a good review score too. Here's the video review. Again, please subscribe to that channel – it's one of my projects.