I have a Surface Pro 4 with Core i5, Type Cover keyboard and docking station with me now and I've just finished the first of a set of videos for Notebookcheck (see it in the Surface Pro 4 review here) and come away, as you'd probably expect, impressed. One of the first things I did, however, was to put the new Type Cover keyboard on my Surface Pro 3. The 'upgrade' is significant and is one of a number of considerations to be made if you're thinking of making the jump from Pro 3 to Pro 4.
In its favor the Surface Pro 4 has an amazing screen that's visibly better than the Surface Pro 3 in my opinion…and confirmed by Notebookcheck lab tests. There's also a faster SSD and faster performance to consider but I find that in normal use you won't notice much. I put the Surface Pro 4 through a very hard CPU+GPU rendering test over 10 minutes and although the Surface Pro 3 wound up the fans and throttled-back the Surface Pro 4 was eventually louder and only saved me 20% in rendering time. I was expecting more although there are OS, driver and Software upgrades to consider so i'll be testing that again later this week. The latest Windows build enables Intel Speed Shift, GPU drivers might still have room for optimization and the video software I'm using is certainly not Skylake-GPU-aware. What I can say is that performance is constant and there's no throttling so gamers certainly have a big advantage to consider here.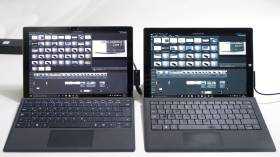 Update 19 Nov 2015: I've upgraded both Surface Pro PCs to Windows 10 V10586.11 and repeated my rendering test in a more controlled way. The Surface Pro 4 has normalised (no more indexing, virus checks, update downloads) and the test was done in as much of a quiescent stats as I could achieve. The results were impressive. The Surface Pro 4 was 35% faster than the Surface Pro 3 in the same video rendering test, both with Intel Quick Sync enabled and a repeated test without Intel Quick Sync support. That saved 3 minutes over a nearly nine-minute render of an 8 minute 27-second video on the Surface Pro 3. That might not sound like much but if you've got a complex 20 minute video the advantages will be bigger because the Surface Pro 3 down-clocks after about 5 minutes at 21 degrees ambient temperature. Latter parts of the rendering process are slower on the Surface Pro 3 so the advantage rises over rendering time. The only problem is that the Surface Pro 4 gets louder. For me that's OK because when I want a video to be rendered I'm not worried about the noise created while I, generally, leave the room and do something else. 35% is a good improvement on rendering but what about the video edit process? I felt a little more smoothness and fluidity in the editing process but nothing that made an important difference. I was expecting a bigger improvement due to the 8 GB (vs 4GB) RAM and faster SSD on the Surface Pro but that wasn't the case. I'll try a quad-core CPU system in the near future for a better reference. Color accuracy on the Surface Pro 4 screen is fantastic. It gives me confidence that what I'm seeing is correct. Photographers and videographers are going to be happy with the Surface Pro 4 for this aspect alone.
I didn't notice the bigger screen, smaller weight or thinner build over the SP3 – both of them are relatively big and heavy for a tablet, but great as notebook.
There's a question about the pen support that sill needs to be answered. Pressure levels aren't exactly important for me and neither is an eraser that I have to flip the stylus over to use. The new stylus advancements are there for professional users only. I am not qualified to say whether the pen is good enough for CAD, sketching or writing. Both pens are perfect for annotations and that's about the limit of my usage.
Battery life is roughly the same as on a Surface Pro 3. You might find one or two scenarios where it is better but overall it's still a 5-hour Windows tablet. 2 hours under load, 10-hours in idle and all figures dependent on-screen brightness and background tasks. The fast SSD will help those background tasks finish sooner so updates, indexing and virus-checking should get a speed boost, which ultimately saves battery life.
I've got 5 more days with the Surface Pro 4 before it goes back to Microsoft but I can already tell you that if you don't already have a Surface Pro 3 and can justify the price it's a PC, a professional tablet and a notebook that you won't regret buying. A year with the Surface Pro 3 shows me that build quality is high which means it's likely to be a PC that will keep you happy for more than 2 years and there's a great community spirit around the Surface brand that you'll feel proud to be part of.
The Surface Pro 4 (and 3) are high-end, mobile, multi-scenario computing devices and you'll be paying for that so if you don't need a pen or a touchscreen (and most people can get by without that) then an ASUS UX305 with Broadwell Core i7, 8GB and 256GB might be a better choice at the same price and a similar weight, but you won't get the flexibility. Using a Surface Pro 3 for presentations with live annotations over PowerPoint projected over Miracast is just one example of how a Surface Pro can outshine any laptop.
Upgrade from Surface Pro 3 to Surface Pro 4?
Is it worth upgrading from the Surface Pro 3 to the Surface Pro 4? You'll certainly get a good price or trade-in value for your Surface Pro 3 as it remains a great PC so the 'upgrade' to a SP4 with Core i5 with 4GB will cost you around $700. However if you're looking to upgrade the RAM from 4GB to 8GB which would be a sensible move, you're looking at $1000 assuming you can get $500 for the Surface Pro 3. That's not an easy upgrade but if you're a professional videographer, photographer or stylus user that's already happy with the Surface Pro 3 it's a no-brainer. Upgrade immediately and get rid of throttling, enjoy a fantastic screen, very fast SSD and look forward to optimized driver updates over time. Windows Hello adds an important security feature so consider that in the price…it might save you a lot more than it costs.
If you're a private user that doesn't have that 'time is money' element in your budget then maybe you should start with the Type Cover upgrade first. Don't forget that the re-sale value of your Surface Pro 3 is going to fall and waiting isn't going to make the Surface Pro 4 any cheaper.
Should you 'upgrade' to the Core M version? I would hesitate to do that but then I want to upgrade to 8GB RAM for my 2016-2017 workhorse. My problem, and I'm sure others will be considering this, is that I'm not using the SP3 stylus much and most of the time my Surface Pro 3 is connected to an external screen. The $1000 upgrade cost to reach 8GB RAM is a hard one to justify, especially when there's the ASUS UX305 with Core i7 Broadwell / 256 / 8GB available for a similar sum. (External UX305 review here.)
Testing continues with the Surface Pro 4. Watch the video review below and look out for further testing.
Surface Pro 3 vs Pro 4 comparison (performance and pen)
Windows Hello testing
Live Streaming (real-time encoder) and WiDi performance
Latest Windows (Intel Speed Step testing)
Docking station tests
Your suggestions in the comments
You can follow @nbc_net or @chippy for updates. The videos are going into the Notebookcheckreview channel. Please subscribe there to support this video review project.
Here's the Surface Pro 4 overview video.