It feels I've waited years for a consumer-grade docking solution that includes a graphics card. The Acer Graphics Dock a, theoretically, universal Thunderbolt USB-C graphics dock (Nvidia GeForce, details below) brings it all together and while 300 Euro sounds expensive, it's a good start for a consumer-grade docking station and shows the way for the future of dockable ultramobile PCs. Acer Graphics Dock hands-on at the end of this article.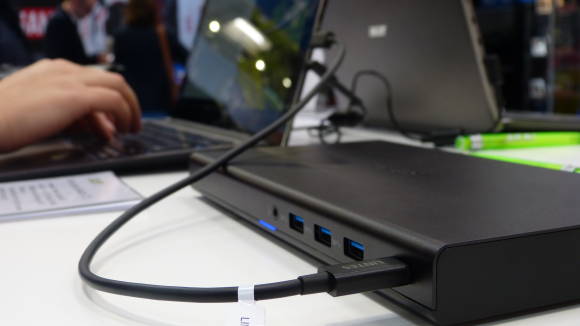 Update 15 March: I quoted a GTX 940M in the video. That information is incorrect as there is no GTX 940M. We're currently trying to confirm leaked information that shows a GTX 960M inside. That makes more sense and could take it from 'low settings' to 'medium settings' PC gaming.
Update: Confirmed by Acer: It's a GTX 960M inside.
I stumbled across the Acer Graphics Dock at CeBIT and although I managed to blue-screen the Acer Switch 12 s by disconnecting the dock while a graphics demo was running I went back and took a closer look. It's really quite interesting and if there's a GTX 960M inside we could be  (update: confirmed GTX 960M) looking at some good gaming capability here.  The GTX 960M is based on the latest Maxwell architecture and is DX 12 capable.  You can see GTX 960M performance comparisons at Notebookcheck but be aware that the CPU, a Core M5, might be a bottleneck here. If everything works well together you'll see 'medium settings' PC gaming on the Acer Switch 12 S or Acer R13.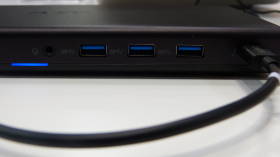 It's not only gaming that's interesting here but OpenCL applications too. Web and video rendering could benefit greatly.
I couldn't get any feel for noise in the CeBIT hall but you'll see a fan in the video below which means we need to get this tested for idle and load usage. I'm interested in this so I'm pushing my colleagues at Notebookcheck to get this in for a controlled test ASAP.
300 Euro isn't cheap but it could bring a lot if it really is a GTX 960M inside. (Update: We've had confirmation from Acer that it's a GTX960M inside.) It offers potential time savings, upgrade savings and mobile flexibility. The USB-C Power Delivery is a one-cable advantage and don't forget the USB 3.0 ports. What I didn't recall seeing is any sort of display port or Thunderbolt pass-through but then I'm stupid because I forgot to look behind the dock. Two DisplayPorts, and HDMI port and an Ethernet port are shown in leaked images.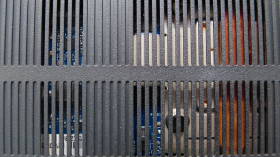 I've asked the ever-helpful Nicole Scott from Mobilegeeks to go back and check on all the outstanding questions and update you when everything is confirmed. If that doesn't happen this week then we'll have to wait until official launch or end-of-April for availability