I've had some time with a production sample of the Lenovo Yoga 710 and while I can't bring you a full review there's a lot I can tell you about it. The Yoga 710 is an 11.6-inch ultramobile Windows convertible (laptop-style with 360-degree hinge) running on a Core M CPU. Bloggers had unlimited access to it at CeBIT earlier this month and were able to draw a lot of conclusions. Here's my summary review.
The Lenovo Yoga 710 is incredibly slick, has a great screen and the keyboard is working very well, at least for me. It's Macbook-like for sure but not quite the fasion-piece and it's likely to be offered at a lower price, according to reports. For me it's one of the most important subnotebooks of the year.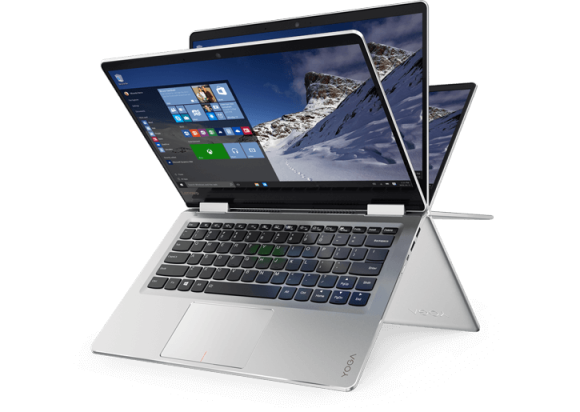 Note: All information here based on the pre-production sample shown at CeBIT.
The Lenovo Yoga 710 is incredibly thin, light and stylish and it suits me better than my Surface Pro 3 because it's laptop-first and not tablet-first. This is in fact the nicest 11.6 inch laptop I've had in my hands for a long, long time. The 360-degree rotating touchscreen works well, and it's strong and stable. Open it up and you get a good quality screen experience. The metal casing feels strong and looks great.
There's an Intel Core m5-6Y54 and 8 GB RAM inside this version (a Core m7 version with 4GB was also seen at CeBIT a few weeks ago and it's possible there's a low-cost entry-level model with Core m3.) The 256 GB SSD (NGFF / M.2 SATA-connected) is a LiteOn module here but the Core m5 version used a different module so it's possible that Lenovo haven't decided on a final supplier for the SSD. All I can say is that the model we saw at CeBIT was fast.
Lenovo Yoga 710 Performance
See more Yoga 710 Performance information here.
All versions of the Lenovo Yoga 710 are fanless and this Core m5 version is noticeably swift in web-based scenarios. I can't tell you anything about long-term load performance because of heat and throttling which is an area where Lenovo will be making final adjustments before availability. Remember that the Core m processor is very susceptible to heat and can down-clock quickly if thermal design isn't perfect. If the design is good the Core m7 version could be a performer.
Sunspider, a sub 30-second web-focused test, scored a good 130 ms with Microsoft Edge. That's ultrabook-level performance and a clear indicator that you'll be able to run web-apps without problem. Browsing is smooth and fast and the WiFi appears to be strong. Core m-based PCs tend to work well in sub 30-second bursts and web browsing fits perfectly into this scenario. There's an AC dual-band module inside (Intel AC 3165 in the model I tested) that seems to be strong. I haven't had any WiFi dropouts.
The Intel HD 515 graphics should support older PC games at low settings, Minecraft and all the Windows Store games.
There's no pen support on the screen which is probably a sensible choice given the laptop-focused ultra-mobile design. 10-point touch works well.
Keyboard
The keyboard is what you might call high-end Ideapad. It's not a high-end backlit unit but it's stable and gives great press-through feedback. I really, really like it. The touchpad is as big as it could be on a 11.6-inch unit and is easy to use. Mouse click points are exactly where they should be. Function keys are reversed and give useful access to camera, touchpad, airplane mode and screen-lock toggles.
Connectivity
There are a limited number of ports on the Lenovo Yoga 710 but surprisingly Lenovo didn't go for a USB-C port. One USB 3.0 port, a micro HDMI port, headset and power port give minimal but classic interfaces.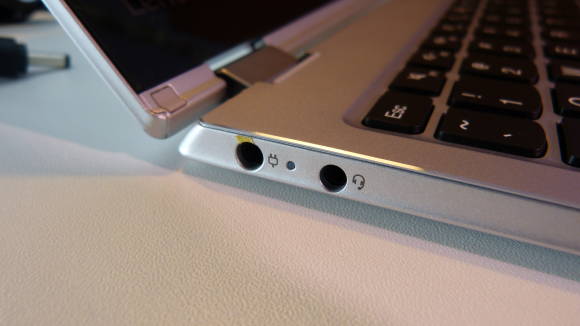 Audio quality is reasonable although there's a lot of Dolby Audio DSP being applied. It's interestingly three-dimensional but not my cup of tea. You can turn it off and you'll get a flatter but loud and clear response.
Screen Quality
The 11.6-inch full HD (1920 x 1080 resolution) screen is really nice. Wide viewing angles, good brightness and, to my eye, good color and contrast. A full test is needed for the complete set of performance results but I don't see it having any major issues and I can't imagine that Lenovo will change the panel before final production.
Battery Life
A 40 Wh battery in a 1KG (measured 1.035 KG) is a good size. Lenovo are quoting an 8-hour battery life and I see no reason why you wont be able to enjoy 8 hours of full-HD video playback and medium brightness settings. Perfect for long-haul flights.
Lenovo Yoga 710 price.
A 12.5 – inch Lenovo Miix 700 with a similar Core m7 configuration can cost 1300 Euros. Pricing 'tips' for the Lenovo Yoga 710 start at $499 / 499 Euro which I find hard to believe. A more realistic entry-level price, and one given by some that saw the Yoga 710 at MWC in February, is 699 Euros. That would be an m3, 4GB, 64 GB SSD model in my opinion with 100 Euro premiums for Core m5 and, again, Core m7, and the same for a 256GB SSD. Add 50 Euro for 8 GB RAM and you reach 1050 Euros for the configuration that I have here. That compares well to the 1449 Euro price of an 8 GB RAM / 256 GB Apple Macbook. Prices are educated guesswork at this stage but I'll update you all when I find out more.
Lenovo Yoga 710 11 issues.
No keyboard backlight
Limited ports (no micro SD or SD slot for example.)
Note: The review here refers to a production sample. Specifications, components and software may change and affect final results.
The Lenovo Yoga 710 11 inch convertible laptop is a highly mobile, silent and stylish convertible laptop with Ultrabook-level Web performance. Long-term performance won't be as good as an Ultrabook with a fan but if the Yoga 710 comes in at a good price it could prove itself as the #1 ultra mobile Windows convertible. What I've seen so far is a showcase for subnotebooks.