When the Lenovo Yoga Tab Pro 3 turned up I was excited to see the bright screen, long battery life figures, LTE and that projector, which of course no-one needs…but everyone can, somehow, justify. Here's a summary review of this interesting and well-designed 10-inch Android tablet.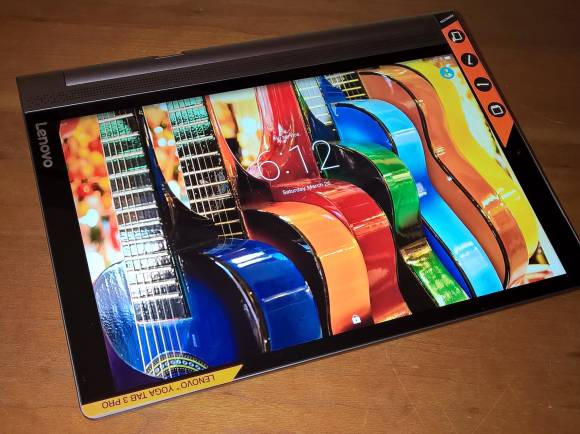 Yes the Lenovo Yoga Tab Pro 3 is the one with the projector that you've probably heard about already. This isn't a laptop or 2-in-1 mind, despite the Yoga branding.
Details: All the Lenovo Yoga's, specifications and reviews.
My daughter already loves the Yoga Tab Pro 3 more than the Samsung Gear VR now that she knows she can lie on her bed and watch Germany's Next Top Model with and I'm finding it very useful as a test-bed for Android apps. The family watched Shaun The Sheep yesterday and despite it being only 480p resolution it's fine for family entertainment. I did a few productivity tests too. It's working out well across a number of scenarios.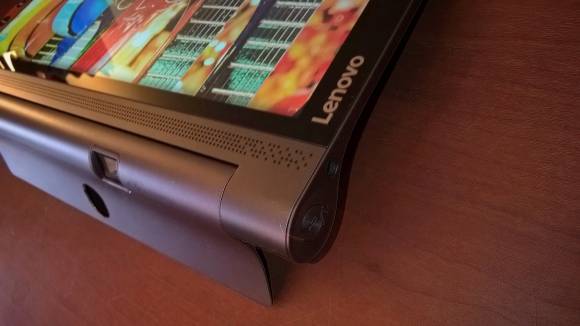 As mentioned, there's no keyboard included with the Yoga Tab 3 Pro so I connected a USB keyboard and mouse and used it for about an hour as a 'PC.'  There's no HDMI output (not even MHL over USB) so it's not comfortable as a long-term desktop screen. 11.6-inches is the smallest screen I would recommend for productive mobile work.
There's an Intel Atom X5 inside which drives good web-loading times using Chrome but Tweetdeck on as a tab seemed slow. Atom X5 on Windows tablets isn't exactly speedy either so that's no big surprise and an indicator that the Lenovo Yoga Tab 3 Pro isn't a barrier-free web-worker.
As you know, however, there's an app for almost everything you need to do on the 'web' and most of them are fast and efficient. It makes-up for the so-so raw Web experience and that's not something you can say about Atom-based Windows tablets.
The ergonomics are good if you're hand-holding. You've got a solid and comfortable gripping point (housing the battery, DLP projector and hinge) if you're looking for a portrait mode reading pad and the stand works both in upright mode and as a kind-of landscape mode easel which works really well if you're drinking a coffee at a table.
I resisted looking at the price until I could make an educated guess about its value and had 499 Euro in my head. That's based on the style, LTE and projector. This model is actually 549 Euro with LTE. 429 Euro without the LTE ($499 in the USA.) Maybe we'll see 499 offers soon though because the delta between the WiFi and LTE versions is more than it should be. A 50-80 premium is more like the going rate.
Lenovo Yoga Tab 3 Pro problems.
I'm a bit miffed that the Yoga Tab 3 Pro won't pair with a Galaxy Gear S2 Classic 3G that I'm testing. Bluetooth 4.0 LE doesn't seem to be supported. Periscope crashes on startup, the camera isn't that good and it isn't running the latest Marshmallow version of Android. There's no fingerprint reader (Hey, if the Honor 5X can offer it at half the price, why can't this Lenovo 'pro' tablet include it?) Yes, there are issues.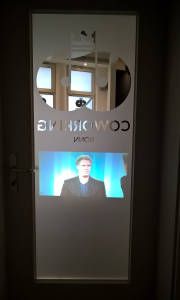 And how about that projector? It's low resolution (480p) and weak (50 lumens. Office and home projectors are usually over 2000 lumens) but it's a lot of fun. You can watch videos in a dark room without any problem but I'm not sure there are many other uses for it unless you're looking for some creative way to project some advertising on a shop Window. I tried that and might run it on my studio windows overnight. The scheduled power-off feature will allow me to run videos on the frosted part of the Window for a few hours after dark.
The Lenovo Yoga Tab Pro 3 is  an interesting tablet and if you're looking for a 10-inch mobile device I advise you to take a closer look at it. The design is good and the screen is sharp and punchy. There's a 23 Wh battery inside (some sites refer to a bigger battery capacity but I think that's for the non-Pro version of this tablet that doesn't have the projector) and my colleagues at Notebookcheck got over 9 hours in their WiFi surfing test (150 nits brightness.) There's no MHL-over-USB (HDMI output via an adapter) but it's OTG capable so you can connect keyboard, mouse and storage. Miracast is supported, there's dual-band AC WiFi, GPS and compass too there's an IP21 dust and splash resistant rating.
The projector doesn't seem to take a huge amount of energy and might give you more battery life than on the screen. That surprised me.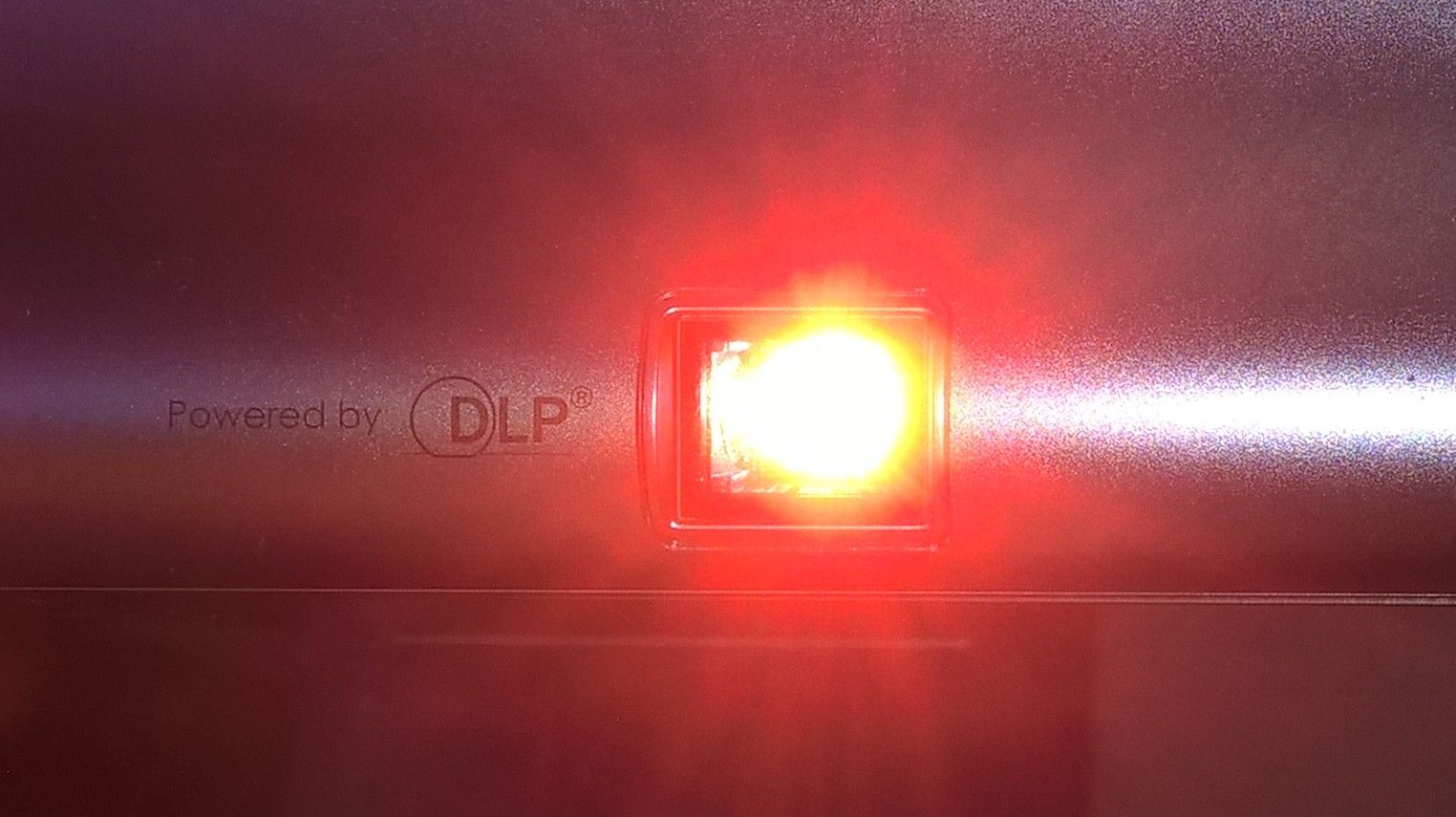 Full Lenovo Yoga Tab 3 Pro review at Notebookcheck.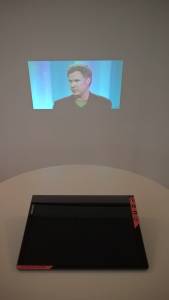 Good design, quality screen, LTE and projector. IP21 protection, good speakers, great battery life and good performance. The Lenovo Yoga Tab 3 Pro LTE is a really interesting 10-inch Android tablet and I'd really love to have it as part of my ultra mobile PC kit.
Compared to Windows tablets there's less flexibility at the OS level but a huge choice of apps the make up for it, including Office Mobile. Don't expect laptop performance here because the Atom X5 isn't much better than the 2014 Baytrail-T platform.
The price for the LTE version needs to come down a bit but if you do buy it at full price I doubt you'll be regretting the purchase.