Does the Universal Windows Platform (UWP) and, ultimately, Windows Home have a future now that Microsoft are stopping development work on consumer phones? I think there's a domino effect about to happen over the next 24 months that will see the consumer laptop market turn away from Windows Home and I don't see a way that anyone can stop it. UWP is then left spreading awkwardly across gaming (Xbox) and business (PCs.)  UWP is at risk. Continuum too. Standing on the sideline is Chrome OS and the Google Play Store. I think it really is time-up for Windows in the consumer space.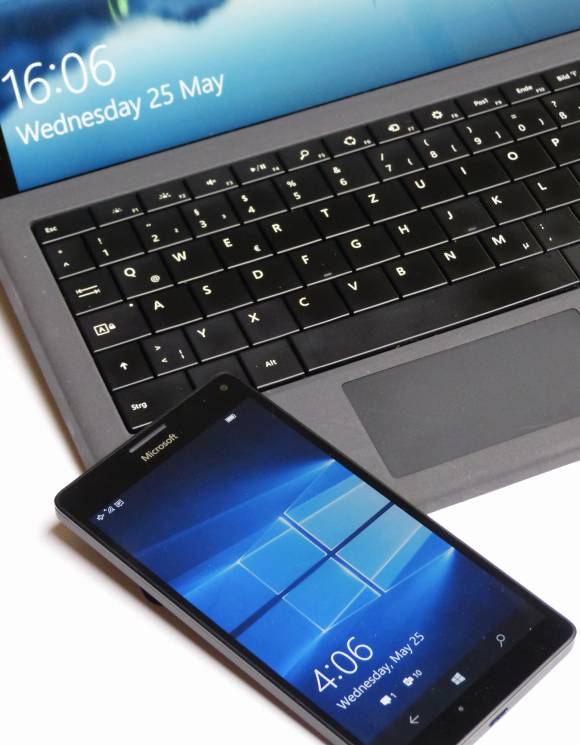 Opinion by Chippy.
The announcement by Microsoft can be interpreted in multiple ways but one thing is certain, Microsoft won't continue developing Lumia products in the consumer and developing market sectors. That's where the Universal Windows Platform had its best chance to develop as consumers picked up phones and Windows tablets. Now it looks like UWP will just be something for the gaming and business market. Without consumer, creative and social apps in the Windows Store I don't see many reasons why a consumer should buy a Windows laptop.
Few people are developing Windows Desktop applications for consumers (Google Picasa is no longer being developed for Windows and I wonder how long Spotify will continue support) and even web-based HTML5 application development could decay. There are a growing number of new and popular apps that just use their web homepage for SEO and to drive people to their app installs. Google wants Android apps on their 'desktop' OS too so there's another signal. What if Google Instant Apps come to the Chrome Browser on Windows? That would be the end of the website as we know it.
The end of the road for Windows Home
This looks to me like the end of consumer Windows in the sub 13 inch space leaving business, content creators, vertical markets, professionals and gamers as the only remaining markets for Windows. OK, there's IoT, data-center and embedded but we'll have to see how that plays out. Samsung have already re-focused on their Tizen OS for IoT devices and Linux has a great chance too.
"We are focusing our phone efforts where we have differentiation — with enterprises that value security, manageability and our Continuum capability, and consumers who value the same"
What would you do with Windows Mobile now in the 4 to 9 inch space?
IF UWP fails, which would mean a complete failure of the strategy to bring a compelling application store to all casual Windows consumers, what fills the gap? Android works for consumers up to about 10 inches. Apple's IOS too. ChromeOS with Android apps fills the 'keyboard' space up to, well, 17 inches if you're just looking for a basic laptop with apps.
Chrome OS and Google Play – Issues to watch out for.
It puts into question the next step for Surface 4 (I don't think there will be another non-Pro version) and means that even the 2 in 1 category, which has been growing, may not see any significant application development for the Windows Store. Intel's Core M is targeted directly at that market. Where does Intel go next with consumer laptop processors? Low cost Core M for Chrome OS?
Rescue strategy for Windows Home?
None of this doomsday scenario is going to play-out overnight so there's one last chance for Microsoft. Possibly.
One scenario could be that Microsoft tries to make it even easier for third parties to develop Windows Mobile devices and continues to improve UWP to make it easier to develop for and easier to port apps to. If Android Play and Instant Apps come to the Chrome browser itself (and not just ChromeOS) then that effort will be shorted out.
Consumer Windows was already at risk. It's too complicated for modern consumers, it's inefficient and it's very expensive. There aren't many high quality apps. Continuum doesn't really work well.
Windows Continuum – What can you do on the Lumia 950 XL ?
What could save Windows Home? The only thing that can save it is compelling apps on the Universal Windows Platform. But developers don't appear to want to develop for it. [I don't have any statistics for how many developers might be considering cross-platform dev tools like Xamarin but I'm taking my pointers from the Windows Store and the feedback from the ISV community.] The porting bridge for Android apps has been pulled. The bridging tools for native IOS applications are the only way one could make a business case for developing a Microsoft UWP application now. That process might need more investment by Microsoft before it becomes a 'must-do' for development teams. And all this in a falling consumer laptop market and a problematic global economy. Europe's businesses have the 'Brexit' question and the USA is entering its final election process. If laptop sales drop even more, critical mass may never be reached for the consumer application developer. 300 million active Windows 10 users does not translate to 300 million Windows Store users.
Gaming could migrate slowly to UWP (let's watch the progress of Forza Motorsport 6: Apex) but I see hardcore gamers jumping to another platform before they engage with games from the Windows Store. Xbox could help bring more recognition and respect for Store games though so there's a glimmer of hope there.
Creators have Apple. What's left?
Windows for professionals. Security, complex applications and remote management. Windows Server and Windows Pro are the last remaining pillars for Microsoft Windows and PC chip manufacturers. 'As a service' models remain an important market too but there's a lot of open source competition there.
Write more apps, Microsoft.
Microsoft has applications and services and they've done the right thing by bringing them to Android and IOS. They need to continue that process and make sure that the UWP version is created with the same features. Microsoft can't, however,  write the missing Periscope app or the Google Maps or YouTube app. They can't get near IoT with Windows Store and as for local transport applications (car sharing, taxis, city mobility) there's even more of a problem. Here's an example – I use my town's public transport application to pay for my transport now and I'm locked into Android or IOS if I want to continue to use the developing multi-modal transport system in my town. The watch I wear [on loan from Vodafone] also requires Android or IOS.
This has been a doom-and-gloom opinion article and you may have another opinion. If so, let me know below but I've already moved my business away from focusing on mobile Windows (this website is not a part of my 5 year income plan) and I am telling experts around me to be careful about investing in large web-based applications. It's going to take a lot to convince me that iPads, Android tablets and Chromebooks are not the future of low-cost consumer PCs.