It's a long way off from being a default option on Chromebooks but some models are now getting the Google Play Store which means Android app integration. Summary: Millions of local Android apps will come to Chromebooks. It breaks the browser-only model and is a somewhat negative sign for HTML5 apps but for some classes of user it's going to bring an exciting new option to the notebook and laptop space.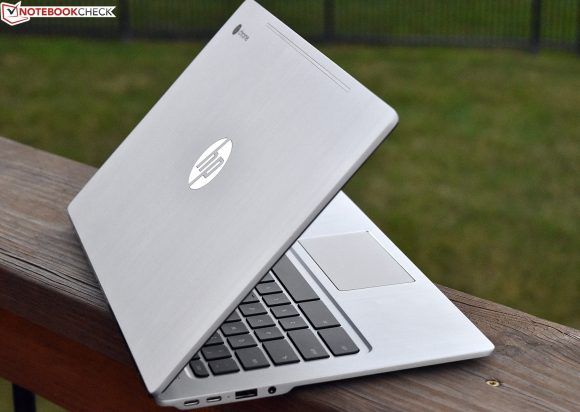 I've got a high-end HP Chromebook 13 here (Core m5, 8GB RAM, QHD+ screen) and I've been working through a series of tests to determine whether it's as good as it could be. Are the Play Store issues and problems that I talked about last May enough to prevent mass-adoption or is there real value in buying a Chromebook now? Hardcore gamers, content creators and teachers aren't going to be interested in Chromebooks with Android apps but most of the mainstream laptop-buying public will be, especially families and children – a huge audience and natural extension to the current success of the Chromebook in the education sector.
HP Chromebook 13 Review. Score 85%. Apart from a lack of touchscreen, micro SD slot and lack of 3G / LTE modem it's an amazing experience. It's expensive though. At 800 Euro it's too expensive. 32 GB of eMMC memory, no GPS, no touch and a poor camera for 800 Euro – too much. I don't even think the processing power is that awesome. If you fire up 10 tabs and 10 Android apps you'll need both the CPU and well over 4 GB of RAM. Storage is going to be full in no time at all once people start creating files with Android apps. This needs to be 599 Euro and have an LTE / GPS / touch option for 150 Euros more before mainstream customers get interested. Remember, the latest Core m5 isn't that much more powerful than the latest Snapdragon mobile processors which integrate touch, GPS and LTE.
Let's talk about the Android Play Store though. Does it work and is it worth having?
Play Store excitement; Then reality.
It's exciting to have access to so many apps available. It's fun to be browsing through games, entertainment and social apps but one thing you'll notice immediately is that most of the new, popular and exciting apps are built for mobile. I don't mean that app window sizing and UI elements are bad, I mean the apps are designed to use hardware found on the latest smartphones. Quality cameras, movement sensors, location sensors, always-on, mobile data and touchscreens are missing which means you won't be using any camera-focused apps, your local city transport apps, touch-driven games, drum and synth apps or music streaming apps. A huge percentage of apps are useless.
There are also apps that don't need a mobile interface when you're at home. Twitter and WordPress are better via the browser as are most news sources although I do like the fact that there are less intrusive ads on mobile news apps along with easy options to buy ad-free versions.
Location-based services work through the usual no-GPS methods of WiFi and IP address analysis so you can enjoy that aspect but don't expect to do any turn-by-turn tracking on a Chromebook.
Local media creation.
One aspect of the Play Store is very interesting and it fills a huge gap in the ChromeOS feature-list. Local media creation is finally possible. Power Director mobile is simple and effective at video editing, for example. If you're lucky enough to have a touchscreen on your Chromebook you'll find some interesting painting apps too.  Local media management is also available, if you don't run out of storage.
Skype – Works! Skype was always a sticking point on Chromebooks. Skype chat and video was possible through the web application but now you've got a much more compact and user-friendly way to do it through the Android app. Top marks.
Whatsapp and Threema chat apps are not working. Whatsapp requires an SMS for authentication and Threema is probably checking for some sort of encryption or security subsystem that isn't exposed. Shame. The Web version of Whatsapp works well enough for me though.
IoT, on a laptop!
My camera, lights, heating, security! Is is finally possible to control all this from a laptop? IoT apps for Windows are rare so I was excited to see the Panasonic Image App install without a problem. The Philips Hue app too.
I was less than impressed when the Panasonic Image App failed to see my camera. I haven't been able to test the Philips Hue app yet but already there's confusion and uncertainty building-up.
Some apps can't be installed.
Some apps are useless without smartphone hardware features.
Some apps will install but won't work.
I note again that this feature is being tested here in an pre-release, unstable version of the software
Confusion continues
One of the big problems is the confusion between mobile and web apps. Are you opening the Twitter mobile app or the website, for example? There's a difference in storage access rights too. Android apps have their own storage space that you can't get to via the ChromeOS Files app. Android apps appear to be able to access ChromeOS storage. I am able to import my camera images to the 'downloads' folder via SD card and they will show up in Android apps. This inconsistent duplication of names and features is going to be a real problem.
Worry and costs
Security. It scares the hell out of me that Google Play apps are getting approved access to contacts, phone details and other features. I don't even know what 'contacts' means on a Chromebook. There's the code issue too. More code = less security. There are more attack vectors too. Android apps don't seem to be able to write to ChromeOS storage which is a positive thing in terms of security and I am fully aware that ChromeOS has been built from day 1 with security in mind  but I worry about what's going to happen in the future. While the architecture might be solid, attack vectors and code are never good for security and if Chromebooks start selling to the mass market they become more interesting for hackers.
Manageability. Support costs will rise with the use of Android apps. Where Chromebooks are being used in education I see most admins turning the feature off. If you're supporting a less knowledgeable family member then you might want to consider that too.
As far as file management and backup is concerned you will always lose your 'downloads' folder on resetting your Chromebook or when you log into a new laptop. The Android storage is slightly different as Android app status is backed-up online. Your Android apps will be downloaded to a new or reset Chromebook and in theory your app data will also be backed up to Google Drive. App data backup restoration did not work for me despite it being enabled in ChromeOS Play Store settings.
Impressive mainstream choice, soon.
I've listed a lot of issues above which could put many people off the idea of mixing a laptop OS with a smartphone OS but Play Store apps on ChromeOS in a Chromebook product is one of the best efforts I've seen yet at integrating mobile and laptop application worlds.
Compared to Windows Continuum, for example, I'm impressed with the Android Play Store on ChromeOS. Google has a massive advantage by already having a mobile application base and relatively few hardware variants. If Google can work with manufacturers to pin-down a hardware specification for approved Play Store devices (and at this point I have to point out the there are some advantages for highly integrated ARM-based platforms here) then the choices become easier. 2-in-1 and dockable designs lead the way for a more mobile experience and will be a problem for Windows-based laptops in the 200-500 dollar space this year.
Chromebooks and Play Store is not a solution for advanced gamers or content creators yet but it is a big step forward for the mainstream market where app discovery, sharing, entertainment and social networking is extremely important. Having access to familiar applications will ease the learning curve and a Chromebook will remain easier to manage than a Windows laptop.
You might want to wait for further developments, a few more 2-in-1 touchscreen options and better prices before jumping in but I see huge potential.
[Naturally I wrote most of this article on the HP Chromebook 13]