The Nokia 105 4G, a new 2023 €40 dumb phone / feature phone, has turned out to be a true breath of fresh air for me. It's a bargain! Dual SIM, BT headphone support, Voice over LTE and, wait for it…a working browser. If you're looking for a detox phone, pub-phone, a beach-phone, a Bluetooth MP3 player, an FM radio even, read this review.
This 2023 feature phone has me feeling so clean and ultra-mobile that I need to share my thoughts in a review. But first, to save you time, this is what you won't get with the Nokia 105 4G:
No Camera, no GPS, no apps, no WhatsAppp, no touchscreen, no email client, and you'll be missing lots of things that you associate with a smartphone.
I'm focusing on the 4G version here – Model TA-1551 – as the non-4G version lacks BT and MP3 player as far as I can work out. The Nokia 110 4G has a basic camera on top of the features you see here.
Nokia 105 4G 2023 Specifications
Dual-SIM (nano-SIM) VoLTE (plus 2G and 3G) voice phone with SMS and MMS
Data service (for the Opera Mini browser)
FM Radio via speaker or headphones. Stereo, when reception is strong enough, via the 3.5mm headset port. The FM radio can not played on Bluetooth headphones.
MP3 player which works via BT, speaker or headphones. Shuffle mode.
BT file transfer and Android contact transfer
Audio recorder
In-call recorder
32GB max MicroSD card slot
Huge battery life, from a 1450mah battery.
Micro USB charging, 500mA charge rate. (Est. 3-4 hours charging time.)
1.8-inch 160×120 pixel colour screen. IPS TFT
Vibration alerts
Torch
Auto time set from network
Contacts (no address fields)
Basic calendar and appointment system
Alarms, Timer, World Clock, Calculator, Unit Conversion
Snake, Arrowmaster, Blackjack and Tetris games (+ demo game to buy)
Weather app (Slow to configure. Paid, but seems to have free usage?)
OTA (via data) Software Updates
Replaceable 5Wh 1450mah battery (Type BL-L5H.)
Power save mode (low brightness, BT off. LTE can also be disabled. MP3 over BT also works in aircraft mode.)
Auto phone off and on (daily, work days, once)
T9 Dictionary (predictive T9)
78gm candybar pocketable size
Size: 121.00 x 50.00 x 14.40 mm
Available in Charcoal (seen here) or Ocean Blue Color
Price: €39.90 (Offers: €35-€37. Oct 2023)
Nokia 105 at Amazon (Affiliate link.)
Surprises on the Nokia 105 4G
USB drive mode. (Tested on a car audio system and PC)
BT file transfer. (Tested)
Photo display via file manager. No zoom.
Browser can be used for RSS feeds and basic sites
Easy contact import via BT to Android
Speaker is loud and clear enough for background music and calls
FM radio is possible without headphone cable
Bluetooth headphone auto-connect. Next / Previous and Pause controls worked on my SoundPEATs headphones.
5.5 Wh (1450 mAh) battery (The non-4G has a smaller battery.)
Coming from a smartphone I noticed a lot missing on the Nokia 105 4G. I suspect anyone that's used even a basic smartphone will come across these issues after using the phone for a while:
No RDS on FM radio
No Mp3 ID3 Tag detection and display
No Audio search or sorting
No file search and sort
No FM radio playback as alarm
Playlists limited to local feature or file directory splitting
Music app playback limited to about 500 tracks per folder
No USB or BT data-sharing (can't use as LTE modem)
Bluetooth audio not quite 100% stable (with my headphones)
Music status doesn't always save
Very very basic browsing. No audio or video support in browser. No streaming.
No WhatsApp via app or browser
No RCS messaging
No FM radio to BT headphones
No IR transmitter (remote.)
Given the price and product positioning, I'll accept many of these shortfalls but there are a few features that would be much appreciated. For example:
Better battery information (Percent, not bars, although if you look closely, there are ten pixel rows used for the bars.)
MP3 playlist support
LTE modem capability via USB or BT
That last one, the 4G modem, would really be nice. I've tested via BT and USB a number of times with various devices, but it's not working.
Gallery: Nokia 105 4G 2023
MP3 player
The key feature for me, and the only reason I ended up with the Nokia 105, is the MP3 player and Bluetooth headset capability. At this price the 105 is a cheap MP3 player but there are limitations.
Auto BT headset connect and microSD storage cover the basics but…
There's no ID3 tag decoding.
Playlist support is limited to folders of about 500 files each. There's also a basic favourites list system. M3U playlists are not recognised.
No sleep timer.
Folders have to be selected via the file explorer, not the player app.
Files play in alphabetical order so file renaming will be needed for ordering in folders.
Music files playback battery life, non-stop via 3.5mm jack is estimated at 60 hours. (Will be tested.)
Battery life
As you well know, battery life depends on many factors. Here's a rundown of my battery life tests so far. I'll update this as I get more information.
Mixed heavy usage – 2 days (5 hours MP3, 2 hours FM, 10 SMS, 20 minutes call, 10 minutes reading news RSS via data.)
FM radio in 2G Mode, no BT – Test1: 40 hours Test2: 36 hours. The FM radio uses just 150mw of power, making it an extremely efficient FM radio in its own right. Note that the FM radio does not work in airplane mode – don't ask me why – so 2G was on all the time.
31 Oct 2023: FM radio without SIMs and with cheap in-ear headphones. 60.5 hours. (Under 100mw power usage.) While this scenario is somewhat extreme, it demonstrates the efficiency of the FM receiver, and the power usage required by a small loudspeaker. (Approx 50mw at very low volume.)
At this stage I must apologise for my unreasonably detailed focus on power consumption. It's a problem I live with ;-)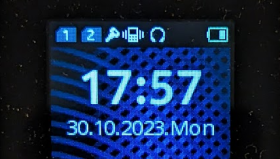 MP3 playback in with headphones in aircraft mode: 60.5 hours tested. Using the speaker at a medium level reduces that battery life by about 30% based on my tests.
Talk time: 8-12 hours according to Nokia.
Standby up to 22 days according to Nokia, but using the auto power off / on feature for sleeping / waking hours will extend that considerably. 30 days should be no problem in this scenario
Torch only – untested. I would guess 12-15 hours. (300mW LED?)
The battery is the BL-L5H which is not easily available as a spare. The only example I have found is one at Ali Express for the equivalent of 19 Euro! The BL-L5H is used in the 105 4G, 110 4G 125 and 150 so I assume it will become more freely available, and cheaper, as time goes on.
The cheapest option for extending battery life, and this applies to those asking about fast-charging, is a 2000mah small and light, sub €10 usb power bank. Buy one and wrap a few elastic bands around it for when you need to use+charge.
Screen setup
There are a number of options available that will change the way the screen looks and functions. The most important is the configurable menu under the top-left menu button. Not all features can be added here, but it's still a useful way to add shortcuts.
The top-right select button seems to be permanently configured to start the FM radio. An option to change this to start the MP3 player would be useful.
The browser
Don't get too excited, but do think about testing sites and setting Opera Mini up with a set of bookmarks for weather, news and your favourite RSS feeds because although you won't be able to use interactive or video-based sites, you can read website content.
Tip: Use the full screen mode by pressing * twice.
Opera Mini operates either via their proxy with compression and page re-formatting, or via HTTP direct connection. I wouldn't use important passwords over their 'socket' proxy connection but the https connection might be safe to use and Gmail is usable.
The browser is very quick indeed with basic pages. For example, to go from lockscreen, into the browser and load GMail will take under 10 seconds.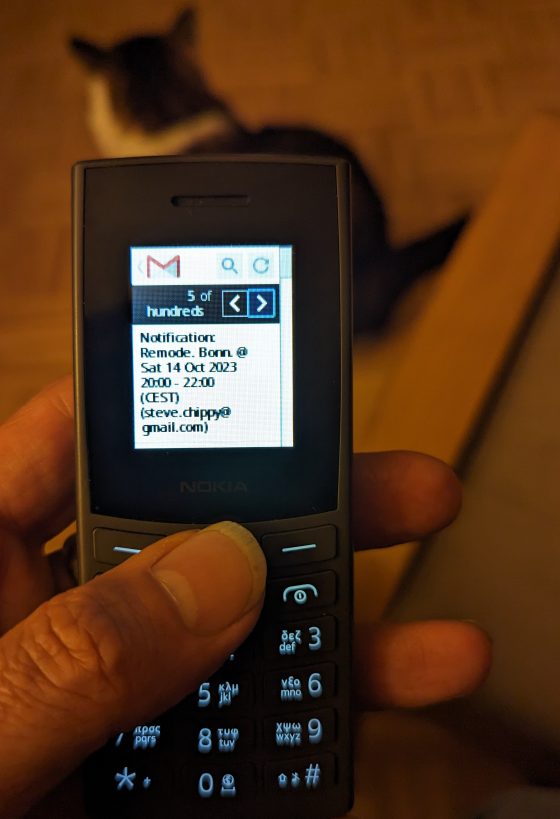 I'll update this section with a video demo soon.
T9 text and predictive text
T9 text is a real pain to use, but if you enable the dictionary completion (predictive T9) you will be typing close to one-finger speeds on a smartphone. The advantage is that it's all one-handed. I had to smile as the old T9 skills came back.
The keypad feeling on the Nokia 105 4G isn't perfect but it's not too bad. You're getting IP52 dust and spray protection as the trade-off.
You'll notice that I've got Greek lettering and English lettering on the keys – the phone was bought while on holiday.
Nokia 105 Audio Recorder
The recorder feature is available under Menu->Extras->Recorder and it uses either the built-in mic or, when connected, a headset (or external mic via TRRS splitter.)
Here are a couple of recordings made with the built-in audio recorder, which can record a maximum of 100 hours in one go (according to the timer – not tested) and can record in WAV, MP3, and AMR format.
Using the built-in mic and MP3 mode I recorded this. The resulting file has a bitrate of 96kbps. Download here if the inline player doesnt work.
Using a TRRS splitter and a RØDE RODELink Lav (about €100), I recorded this in WAV mode. The bitrate is 194kbps, which doesn't play well in browsers so I've upscaled here it to the standard 768kbps rate (mono). Download here if the inline player doesnt work.
While perfectly good, in both cases, for audio notes, the Nokia 105 is not capable of high quality audio recording via external microfone. If recordings last for 100 hours, it makes a cheap and long-lasting discreet recording device. I won't be testing that!
The on-call recorder is available in the call menu after a call has connected. Here's a sample recording. Original low-bitrate WAV)
USB Transfer rate
Using the phone in USB drive mode I transferred a 104MB file to a 16GB MicroSD card at about 22 mbps, which is very slow.
Call clarity
Voice over 4G/LTE should enable high quality audio. I have made calls when in LTE mode but I'll be honest, I don't know if those calls are going over LTE, or via 3G or even 2G. The signal indicator shows 4G during the call so I can only assume it worked. (SIM slot 2 tested.) The in-call recording above was made over 4G.
I had no problems on a 20-minute 2G international call.
Casing and Screen scratch resistance
Given that this has been with me on the beach for a week, the screen remains surprisingly unscratched. There's evidence of case scratching though. Don't expect this to remain in A1 condition for long.
The IP52 rating means that it will resist dust ingress and some water spray directly onto the fascia. It's not water resistant!
Nokia 105 4G Software update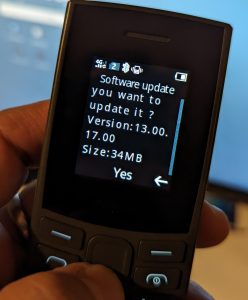 On the 25th October I received a software / firmware update notice and installed the new software.
Latest Software Version: 13.00.17.00
The software update resets most (perhaps all) of the phone's standard configuration. It does not erase the microSD card or delete any SMS messages stored.
I haven't noticed any differences between the old and the new software version so far. All menu settings appear to be as before.
I hope that the software updates bring a few new features over time. On my wish-list are the following features which I imagine could be added via firmware changes. FM Radio as Alarm, higher bitrate audio recording, file search, MP3 playlist support.
Why buy the Nokia 105 4G 2023? Is it good?
The Nokia 105 can perform only a very limited subset of Web activities, is a terrible device for writing and doesn't have a camera or WhatsApp. Why would you buy it?
At €40 it's a cheap dual-sim 4G phone. It's an mp3 music player and can play music through Bluetooth headphones. For kids, not a bad choice at all. For anyone wanting to step back from the grid a bit it's also a great option.
The 105 4G will serve well as a holiday phone. SMS is still a thing, people, although I do understand that camera and maps are an important part of the tourism experience. Think of it as your back-up beach MP3 player! As a camping phone (radio, MP3 player and torch) it's also great.
As a standalone MP3 player, it's basic, although if you have the time to organise music into folders as playlists, it becomes a lot more interesting. Being able to play over BT headphones makes this one of the cheapest MP3 BT players you can buy. It's one of the lightest MP3 players too!
If you have multi-SIM capability then of course this works as a secondary phone, for shopping, events, restaurant visits and the pub… perfect. If you want to run another SIM as well, you can.
This makes a great emergency phone that you can pack away in your kit. With an FM radio that will last a week of daytime use it will easily go a month or two with a sub-€20 power bank. A €7 2000mah mini power bank, which will weigh about as much as the phone, will charge the Nokia 105 4G fully.
If you need a voice notes recorder, the quality available from the built-in mic is good.
The Nokia 105 has taught me about what I really need in a phone, has brought me a step back towards 'voice' and has reduced my screentime, which has got to be worth €40!
Your questions and comments are welcome. Drop them below. Comments are held for approval before they are shown here.