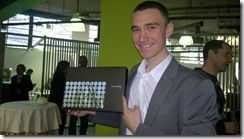 I'm at Intel's MeeGo AppLab this morning and just entering the second session where the engineers are giving coding demos. While that's happening, I have a chance to give an update on what I've heard this morning.
Intel has tried hard to prop up MeeGo this week. 'Nothing changes' is a phrase I've heard a number of times since last Friday morning and with Intel getting aggressive on their statements around Medfield and Moorestown, you get the feeling that it really is business as usual. A large, no, hugely critical part of MeeGo is getting developers on board and to that end, Intel launched the MeeGo series of AppLab events. Today, in Barcelona, over 250 people will attend sessions highlighting the Atom platforms, the MeeGo developer program and the AppUp application channel. Apparently the sessions were well overbooked!
A number of important announcements were made.
Free optimisation tools. Intel have a suite of high-end optimisation tools and libraries that can be used to improve the performance. I saw a 2D fractal creation demo this morning which highlighted over double performance. Normally this tool suite is over $1500! Having highlighted this 'developer barrier' to Intel last year, I'm pleased that they've removed it.
Acer (correcting previous error – Asus was not mentioned) developing mobile products on MeeGo. We've already seen Lenovo and Fujitsu netbooks running MeeGo bt it sounds like the first tablet will come via Acer. No-one is giving any more information on this so we suspect, based on MeeGo timescales, that it's a Q2 product start. Source: EWeek and Intel (on-site.)
MeeGo 1.2 developer pre-alpha available for download.
Prizes! The developers of the first 100 applications accepted through the MeeGo developer program will receive $500. More incentives were announced. (Info here)
250+

EvoPC

ExopC [twitter] MeeGo tablets will be given away before the end of the day. (Here's the first ever unboxing!)
Michael Richmond, Atom OS Product Marketing Manager, answered questions and said that "Intel will do what it takes to make this thing float. inch
Intel have presented new hardware, new products, OS builds, developer tools and highlighted a lot of investment. This momentum needs to continue, with major product partners, over the next months.
Full disclosure: My trip to MWC was sponsored by Intel. (And please don't tell them I'm now off for an Nvidia Quad-Core demo!)