Foreword: Many, many thanks to Er Lern out in Malaysia for sending us this review of the CSL mi700 tablet before posting it on his own blog. Make sure you follow Er on Twitter. Note that the Viewpad 7 is a device based on the same original design as the CSL Spice but may have different firmware. We'll be testing the Viewpad 7 in the next few weeks.
It took a long while to get this final part out, but here it is. In this last article, I will try to be succinct in all the areas that were particularly important to me (and thus, to you readers too, I hope). Once again, I would like to thank CSL for loaning me a review unit.
I have had this device for nearly a month, and have put it under many conditions. Before evaluating the whole thing as a package, let's look at some other important areas not covered before:
Camera
(DroidPad 3MP sample shot on the left, compared to HTC Dream 3.15MP sample shot on the right. More in the Gallery)
There two cameras on the unit. One is a 3.0 MP back facing camera (right smack at the middle) and the other is a lower VGA camera that is front facing. Frankly, the camera is alright. Granted that it is not good enough for you to replace your deicated camera (which device would?), but it does make for some good quick shots. I compared a still photo that I had on a similar subject matter (taking a picture off the desktop screen) made on my old HTC Dream (sporting a similar 3.15MP camera). Even with the .15 camera size difference that should give the Dream an edge, I find that the picture from the DroidPad is still clearer. Maybe it is the algorithm used, but things are sharper on the DroidPad camera. Video is nothing to shout about, with the capability to capture VGA video at a paltry 16 frames per second. Not smooth and I found the audio not syncing correctly to the video by a few milliseconds.
The front facing VGA camera is just that… a VGA camera. It is sufficient for making video calls (if you can find a software that supports it on Android). I tried a few but could not manage to get any to work, except for using the test center modes. In that situation, I found the video quality to be acceptable, though not great (it's VGA). You can use the front facing camera to record video too. Though it records at VGA quality, yet the fps is quite low, at 8 frames per second. It is not worth using, unless you really have something at the spur of the moment to capture on the front facing side. (A sample of video taken using the Front and Back facing cameras can be downloaded in their original format from: http://www.multiupload.com/JNPJWF8YET – 8+MB file size)
The main complaint of the use of the camera comes down to Android itself. It is the stock version that does provide some level of tweaking. For the main camera, you get the full options of selecting the 'Picture Size' (3MP, 2MP, 1MP, VGA and QVGA), 'Picture Quality' (superfine, etc.), 'Color Effect' (Mono, Sepia and Negative), 'Metering Mode', 'Anti Banding', 'Saturation' (5 levels given), Contrast (5 levels), Sharpness (3 levels), Brightness (7 levels), Grid mode and toggling the shutter sound.  The front facing camera has lesser options of course since its priority is not for normal picture taking.
Phone Functionalities
Making calls on the DroidPad is as simple as it is on other Android devices. However, let me caution the potential user; do not try to use it as a normal phone by pressing it against your ears, it just does not work that way. The best way is to use the speaker to listen and to speak normally towards the microphone on the side. It works in most situations except in a noisy environment.
Reception is actually quite good. It does not drop in signal strength as much as my other phone devices. Maybe the size of the device has something to do with it, but whatever it is, it works well as a phone. The best option I guess would be to pair it with a Bluetooth device. I found that the headset given was inadequate. The quality is horrendous and not worth using to receive calls.
I am very particular with the speed in which calls are received, and I can honestly tell you that it is almost instantaneous. Regardless of what application you might be using, the DroidPad quickly switches to phone mode at the first ring. This was and still is a problem for Android devices running on lower CPUs like the dreaded MSM7201A, 528Mhz processors, which gave a 1 second lag or more. Whether or not you will use this as a phone depends on your comfort level in using a device this big. Those who have used HTC's Shift would find this a better alternative.
GPS
Like I mentioned before in earlier parts, the GPS map installed (with free 1 year service) is one of the most horrible looking software I have ever seen. The User Interface is archaic and does not give much information for the user. I ended up using Google Map as my default GPS map navigator. The GPS performed adequately. It is not fast by any means, requiring more than two minutes to get a solid fix (within an accuracy of 5 meters). It is not terribly slow either. However, if you want a cheaper and yet better alternative (only applicable for Asian users), download Ndrive. It is almost similar to Garmin's GPS navigation app. I found that using Ndrive was a breeze, and because of the screen size, navigating in the car becomes less of a hassle. The only problem is to get a proper mount for the DroidPad since it would be a pain to hold it one hand for long.
Data Connection
One of my other gripes that I find with the DroidPad is the inconsistent WiFi connection. Every time it comes out of the lock screen, the WiFi connection will not re-connect itself automatically. To solve this, one must turn it off (via the power control widget for fast access) and turn it back on again. It is irritating, and I wonder whether I am the only one facing this issue. Besides this one issue, there is nothing much to complain about the WiFi. It is fast. I managed to update all 17 applications from the Market in less than 15 minutes. Not bad right? Some of the apps were big sized ones (mostly games like Zenonia which clocks in at over 10MB).
I have not tested the 3G connection on this (I cut my data connection some time back) but based on feedback, it seems to be performing adequately.
Multi-touch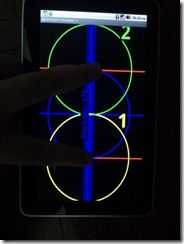 Although we have noted earlier that the screen is average, it is another thing when it comes to multi-touch. The device suffers the same problem encountered in the Nexus One when you use the MultiTouch Visualizer 2 app. From the video uploaded here (https://www.youtube.com/watch?v=p3TslDLrhQw), we can see that the points become confuse when they converge, often misalignment will occur, followed by the flipping of point identification. This means that the device has a flawed multi-touch implementation. It will not affect simple applications like pinch-to-zoom gestures, but definitely on more delicate applications (e.g. games) it will be more obvious.
USB On The Go
Surprise, surprise… the DroidPad does support USB OTG. Basically, this allows the user to connect the DroidPad to any USB storage device, like your thumbdrives. Very handy indeed if you want to transfer files over without the hassle of communing with a middle device. The caveat on this is the need for a USB Mini A cable that is short (not more than half a meter). Some have tested it with great success (working with many different USB devices). For a list of tested USB devices on the DroidPad take a look at here: http://forum.xda-developers.com/showpost.php?p=8819448&postcount=163. The forum thread even have links to buy the cables from Ebay, if you are interested. The small downside is the lack of unmounting function for USB OTG. You need to just disconnect the device from the cable to unmount it.
Hacking
The thrill of Android as an mobile OS comes down to its 'hackability'. If this is not your cup-of-tea, then you might want to skip this section. Anyway, based on my impromptu visit to the CSL headquarters in Malaysia, I was told by both the Marketing department and CEO that CSL is committed in developing for the DroidPad and to help independent developers to utilising the device to its full potential. Unfortunately, this is a hard thing to do when the product sold is not within the control of CSL. Ultimately, the firmware upgrades would come from Foxconn's subsidiary which produced and developed the DroidPad (or whatever the actual model name is). This is also one reason (I suspect) that the two developers from CSL were unable to reply to my queries on the firmware and on root access possibility. Enough about CSL's involvement or openness on this front. What about the device itself? Can it be modified? Honestly speaking, the fear was that there would be too few developers who would be interested in the device itself, to find 'root access' which would allow users to permanently modify parts of the firmware. Fortunately, root access was found within the week of launch in Malaysia.
Along with root access, the small community of DroidPad users have also found a way to install a custom recovery to ensure that the device will not be 'bricked'. These are the first fruits of an increasing acts of making the DroidPad more efficient. Already there are some in the small community who have gotten rid of all the localised apps (which were irritating to say the least). It is only a matter of time before the kernel will allow for over and under-clocking of the processor chip. This certainly would mean that the lifecycle of this device is lengthened. With this in mind, the potential of a more polished DroidPad is a reality. It merely takes time and commitment from the development community. If you are interested in such matters, do visit http://forum.xda-developers.com/showthread.php?t=793071 for the latest news on modifying/hacking the DroidPad.
Videos of Walkthrough of the Device:
It took some time before I managed to get this up, but here it is –
https://www.youtube.com/watch?v=0XsdPapTJZo – Simple walkthrough beginning from the Homescreen (LauncherPro), Typing using a Note App, Ebook Reader and testing of Live Wallpapers. Sorry for the poor video quality. From my Android HTC HD2 device.
https://www.youtube.com/watch?v=qaKuB93Zg6E – Simple walkthrough testing the Music App and the speaker loudness. This is followed by a simple use of the browser.
CONCLUSION:
Here comes the hard part of the review: the verdict. Is this device worth buying? Can it stand up to the onslaught of Android tablets that will surely come either in Q4 or Q1 of 2011? The answer is never so straightforward as a yes or a no.
The Pros of this device are:
Capacitive screen (beats all the generic resistive android tablets out there)
It is small enough to be portable (at 7″ inch)
It is big enough to read websites without much problem (Sorry Mr. Jobs, but 7″ does work)
GPS equipped
USB On-The-Go
Expandable MicroSD slot
2 Cameras – Video Calling
Hackable
Large RAM space
Sturdy Build
Relatively cheaper than Samsung Galaxy Tab
The Cons for this device are:
Screen is only average and has too low resolution
Bulky and not slim enough
CPU is too low for the price point
Multitouch problems
Accessories included are redundant (car charger given is the wrong voltage, headphones are of poor quality)
Redundant applications included (merely shortcuts to website based applications)
Developer support uncertain
Buggy software experience
Price point a bit expensive
Stock Interface not friendly (this is solved by installing ADWLauncher or LauncherPro)
Some of these things may not be a dealbreaker for you, but for myself personally, I find that the price is the biggest problem for such a device. Will it come down? Eventually, but by that time, there would be newer products (maybe even the next iteration of the DroidPad with Snapdragon chip). The current price at RM1,599 (USD507) is not convincing enough, especially when the experience is not as polished as the iPad (even though it offers more functionalities than the iPad). However, when you compare this device with the Samsung Tab, especially with its price point (which is around USD700 and above) then you may have a good deal on hand. I find that that if one or two weaknesses were solved (particularly relating to the screen resolution), the USD507 might just be a good steal! I reckon that USD400 would be the best price for this device to sell like hot cakes.
Based on a simple survey and feedback from people who have already bought the device, the general opinion seems to be pretty positive. Most people were quite satisfied with the purchase (especially after Samsung Tab's price was revealed). As usual, make sure you test the unit out for yourselves before making that call!
Comment from Chippy: We'll have the Viewsonic Viewpad 7 for testing at Carrypad soon. I hear that the firmware will be slightly updated from the Mi700 you see here. The Viewsonic Viewpad 7 will be available in Europe and the U.S. in November. Thanks again to Er Lern for his time and effort on this guest review.