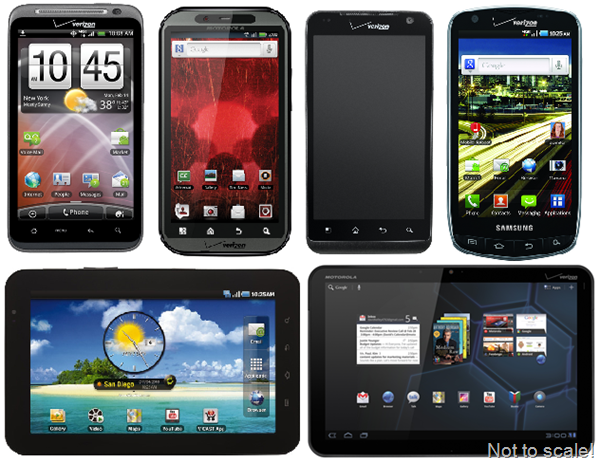 With the launch of Verizon's first 4G (LTE) smartphone, the HTC Thunderbolt, just behind us I thought it'd be a good time to lay down an overview of Verizon's initial 4G device lineup. If you're planning on jumping into the 4G action, listen up: these are the devices that you'll be seeing right down the road.
At Verizon's CES 2011 keynote, the company announced a goal to launch 10 4G devices by mid-year (which is now being refined to "summer"). Of those 10 devices, four are smartphones and two are tablets.
Availability:
All of the devices listed in this article will be available by this summer, according to Verizon.
As for 4G coverage, Verizon is continuing to roll out coverage to more regions. Take a look at the following map to see if your area is already 4G enabled, or marked as coming in 2011 (be sure to read the map legend!)
http://network4g.verizonwireless.com/pdf/VZW_4G_LTE_Coverage_Map.pdf
We saw the launch of the first of Verizon's four upcoming 4G phones with the HTC Thunderbolt just a few days ago:
HTC Thunderbolt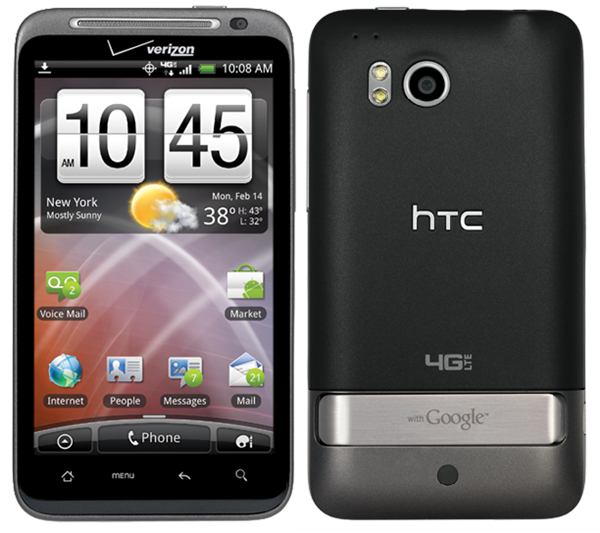 The sleek looking HTC Thunderbolt is already in the hands of consumers, and we've seen some incredible 4G speed tests so far – speeds that easily outperform my home broadband connection (and probably yours too!). Check out this video from GottabeMobile.com of the Thunderbolt benchmarking 24.30Mbps download and 16.60Mbps upload:
.
This is no doubt very impressive, but be forewarned: Verizon does not anticipate that customers will see these speeds once the 4G waves become saturated with users. Verizon has been claiming from the beginning of their LTE campaign that users should expect 5-12Mbps download and 2-5Mbps upload.
They are getting great press thanks to the ridiculous speed that the Thunderbolt achieves and even though the speed will reduce as 4G devices become more widespread, they are going to benefit greatly because the idea that "Verizon's 4G is fast" is going to stick around in the heads of the general public much more easily than specific figures. When customers pick up a 4G phone, even after the speeds have come down to 5-12Mbps, they'll likely still be impressed with the speed if they are coming from 3G.
Specs:
The HTC Thunderbolt isn't just a data speed-demon, it's also a top-of-the-line smartphone packed with some impressive hardware:
Android 2.2 with HTC Sense interface (unfortunately not 2.3!)
Qualcomm MSM8655 Snapdragon CPU @ 1GHz (Qualcomm MDM9600 chipset with LTE support)
768MB of RAM
8GB of built-in memory + 32GB pre-installed Micro-SD card
4.3" capacitive touchscreen @ 800×480
8MP rear camera with dual-LED flash and autofocus, 1.3MP front-facing camera
WiFi b/g/n & Bluetooth 2.1
GPS, FM radio
It's also got a sweet kickstand – a hallmark of several HTC devices: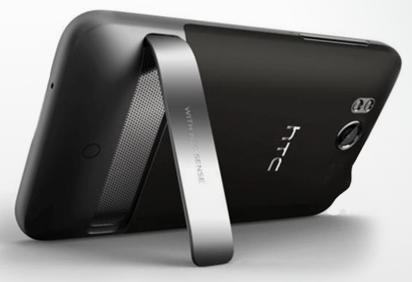 I'm disappointed that it isn't using running Android 2.3, but it seems like almost every upcoming device has this in common with the Thunderbolt. If we're lucky, we'll see an update to 2.3 down the road.
What it doesn't have in common with most other smartphones on the market today is that the front-facing camera is 1.3MP instead of 0.3MP, this should offer a nice boost in video-calling quality (especially over 4G where the bandwidth is there for higher quality video).

Reviews:
If you're looking for some quality info about the Thunderbolt, check out these reviews: