If you've spent any time in the tech end of the blogosphere lately, chances are that you've heard plenty of info about the Nexus One, a new phone from Google that they are calling a "superphone inch, implying that it is one step up from the smartphones that we've come to know.
Google had scheduled and official press event today and is revealing all about the Nexus One, which is an HTC handset designed very closely with Google. It is running Andro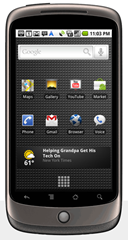 id 2.1 software which Google says will be available to other existing Android devices soon.
Check out an animated 3D tour of the Nexus One.
Even cooler than a simple official announcement is that Google is already selling the phone, and it couldn't easier to purchase. Just go to www.google.com/phone. Currently the phone can be purchased at a subsidized $179 with T-mobile as the carrier, or unlocked (for use with any SIM card/GSM network) for $529. Also on board for carrier subsidies, but not available until Spring 2010, is Verizon and Vodafone.
One major fine print detail about the unlocked and unsubsidized version: Google says that the currently available Nexus One does not support AT&T or Rogers 3G bands. So phone calls should work on these networks (and perhaps even EDGE data), but you won't be getting fast 3G cellular web access. Here is the official text:
The currently available Nexus One device is unlocked and will recognize SIM cards from any mobile service provider using the GSM standard, but is incompatible with the frequency band used by the AT&T and Rogers networks for 3G data (see below). Additionally, the Nexus One is incompatible with CDMA networks such as Verizon and Sprint.
[My emphasis on currently available] It seems that Google is hoping to support these bands in the future with a slightly modified Nexus One. They also go on to say the following:
We are working hard to provide Nexus One phones optimized for the Verizon network – please stay tuned. The Nexus One for Verizon will not be a GSM device, so it will not be compatible with T-Mobile, AT&T, or other GSM networks.
Alright enough about carriers, how about specs? I'll give you the quick details, but you can jump over to the tech-specs page for even more.
3.7-inch 800×480 AMOLED capacitive touchscreen
1GHz Qualcomm 'Snapdragon' QSD 8250 CPU @ 1GHz
5MP camera
802.11 b/g/n Wi-Fi
AGPS
Digital compass
Needless to say, I'm pretty excited about this phone. Now I understand why HTC was holding back on an Android version of the HTC HD2. It makes me happy to see that Google has made the landing page for purchasing the phone extremely simple (in typical Google fashion). I'm looking forward to a version of this phone that will support the necessary bands for AT&T 3G as that is the carrier which I'm currently using, but it isn't exactly clear if they are working on a version of the Nexus One that will support it or not.