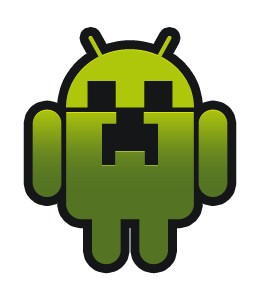 Minecraft, the breakout indie game that's sold more than 3.5 million copies even though it isn't out of beta, launched a 'Minecraft Pocket Edition' version of the game which had an exclusive home on the Sony Xperia Play… until now. Today Minecraft Pocket Edition is available on the Android Market and ready to be installed on the Android 2.2+ phone of your choice so you can get your 'craft on, mobile style.
Mojang, the company behind Minecraft and Minecraft Pocket Edition, has put together a little trailer to announce the non-exclusive availability of the game. The video features someone playing Minecraft PE while using the toilet which, if we're being honest, is probably where it's going to find great application.
httpv://youtu.be/D2Z9oKTzzrM
The desktop version of Minecraft is still in beta and sees updates on a fairly regular basis. Mojang says that the current release of Minecraft Pocket Edition is focused on the core creative part of the game, and they plan to keep regularly updating the game, just like the desktop version. Presumably the survival portion of the game will be added at some point with such updates. Currently, it's possible to have other Minecraft Pocket Edition players join your game world for some multiplayer fun, but they must be on the same WiFi network. Unfortunately, the multiplayer functionality of desktop Minecraft and Minecraft Pocket Edition are not compatible.
Mojang also put up a video of Minecraft Pocket Edition being played so you can see how the touch control work. They don't look half bad, but it makes me wonder if it'd be possible to hook up a bluetooth gaming controller (like a PS3 controller, perhaps) to be able to play the game more easily.
httpv://youtu.be/rCcsuPH4vJY
Good news for anyone who either has no idea what Minecraft is all about, or is weary about dropping $6.99 for the game before knowing that the touchscreen controls are decent: there's a Minecraft Pocket Edition demo that's available for download right here.
Mojang says that they've also got an iOS version of Minecraft Pocket Edition in the works, though they've not shown any public demos or announce a launch date at this point.
If you'd rather read your way to enlightenment, I can tell you that Minecraft is a lot like like a world made out of Legos… with zombies and monsters that come out at night and try to kill you. The world is randomly generated which means you'll never ran out of new land to explore. Minecraft Pocket Edition is currently lacking the monsters and the resource management aspects of the game (the 'survival' part I was talking about earlier). At this point in its development cyclce, neither desktop Minecraft of Minecraft Pocket Edition have any particular goal or way to 'win' the game. Just like Legos, creativity is key.