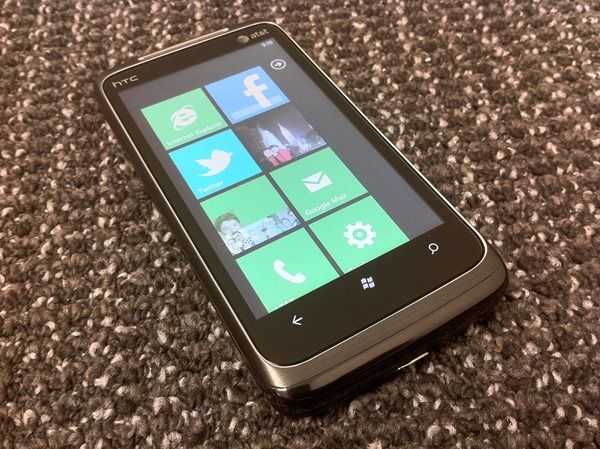 Surprise surprise, we've got a Windows 7 device to take a look at and it's the HTC Surround! I've been itching to get my hands on a WP7 device, and I'm actually pretty impressed with the out of box experience. You know the hardware is decent, after all, this is an HTC phone, but the software is surprisingly mature for something that has been reworked from scratch and only recently released. Don't get me wrong, there's some areas where the HTC Surround hardware and WP7 software could use some improvements, but when you considered how new the platform is, things are looking good for WP7. I just hope they can gain critical mass to become a black hole of app development and customer attraction, instead of dwindling and becoming an ugly white dwarf.
I've compiled a few early thoughts and have the full gallery posted for your perusal.
Hardware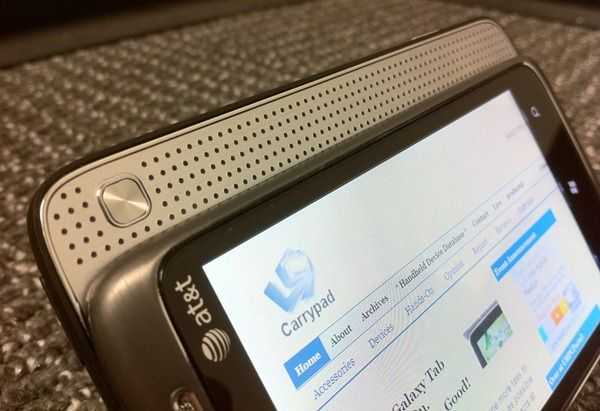 The HTC Surround is the first phone that I've tested in a while with any heft. This is a good thing! The last three phones I've tested (all Samsung) have all felt quite cheap with plastic exteriors. The Surround, on the other hand, feels like a quality piece of hardware. There's brushed metal on the front, rubberized plastic on the back, and metal accents abound.
The feature for the Surround's namesake is a sliding section that reveals a speaker bar (and a nice stand that pops out of the back). How/if/when this speaker will be useful has yet to be determined. There's also a button on this sliding section that changes between some audio presets (even when you are using headphones). Still, my early intuition is that I'd rather sacrifice the sliding section to slim the phone down a bit and increase durability (no moving parts). But we'll have to wait and see after some more testing.
Software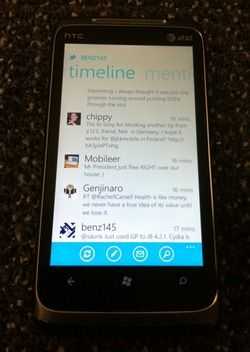 I'll say it right here: I like WP7. It's like a breath of fresh air from iOS clones (awful ones, or otherwise). The top-down concepts are similar (app driven, typical smartphone usage), but at least the GUI is really unique, and quite pretty. WP7 is the first mobile operating system that's nailed iOS's system-wide smooth scrolling and animation. This is a big plus for me. WP7 is also arguably more user friendly than Android out of the box. Speeds are very good and certainly comparable to the latest iOS and Android devices.
There's still a lot for WP7 to improve upon, but at least it's initial offering is decent.
Microsoft made a big deal about WP7's "Live Tiles inch when they talked up the OS before release. So far, I've hardly seen these used. When they are, the information presented is almost always useless and just for show (AKA: waste of battery). I installed the Weather Channel app expecting to be able to see the conditions, or at least just the temperature outside on the Live Tile, but there's nothing more than a static logo. Facebook and Twitter are the same. Facebook could show how many notifications I've got, and Twitter could at least show the number of how many mentions/DMs I have, but there's no info in their Live Tiles.
The brings me to another sore point: WP7's notification system. I tweeted earlier that "I can't tell in the WP7 notification system is awful, poorly implemented, or just non-existent. inch Yeah, it's that bad. I don't seem to get any notifications through the phone expect for email or SMS which shows up as an icon on the lock screen and as a number on the Live Tiles of the respective apps.
I'll have to leave you guys with these thoughts for now. I need some more time with the phone and software before crafting the full review. Stay with us to see how the combination of HTC and WP7 stack up to the competition! And definitely shout-out in the comments if you want to see anything tested in particular in our review of the phone.