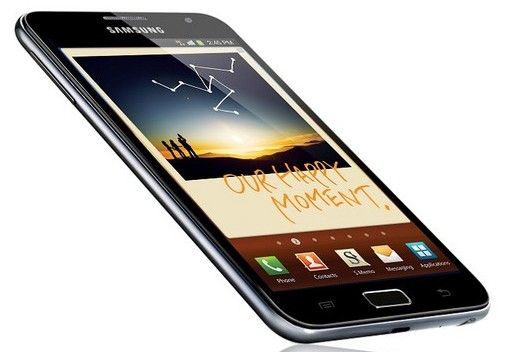 The Samsung Galaxy Note finally has official confirmation of an eventual US release. I don't think many of us doubted that it would happen at some point, but Samsung had been outwardly indecisive about a US release of the Galaxy Note ever since some initial confusion over a statement made during IFA in October when the Note was announced. Since then, we've seen the Galaxy Note pass through the FCC, which bolstered our confidence that the stylus-touting Note would reach the US. Now Samsung has cleared things up once and for all, we'll see the Galaxy Note in the US in 2012.
According to CNET, who cites a pseudo-press release that was posted as a photo description on flickr, "Samsung has confirmed that a U.S. launch is in the works for next year but hasn't yet revealed a specific date". Given the excitement surrounding the Galaxy Note, and the proximity of CES, there's approximately a 99.9% chance that we'll see the Note touted by Samsung at the event. We hope to hear more specific news about the Galaxy Note US release date then, stay tuned!
In addition to confirmation of an eventual US release date for the Galaxy Note, Samsung noted in the press release that over 1 million Notes have been shipped. CNET points out that "shipped" in this case means how many have been sent out to resellers; fewer than 1 million may actually be in the hands of customers.
The Galaxy Note has been holding firm in the top 10 popular devices in our mobile device database since it's initial announcement back in November. I would call the massive 5.3″ screen way too big except that the Galaxy Note comes with an active digitizer stylus which allows the user to write naturally and accurately on the Note's 'Super' AMOLED display. You can see it in action here from our very own Chippy:
httpv://www.youtube.com/watch?v=EvdDDTUGJDo
The only option for obtaining a Galaxy Note in the US currently is to go through an importer, but you'd better not be expecting to pay under $600! Once the device reaches US carriers, customers will be able to get their hands on it much more easily, thanks to subsidies that will bring down the $850 MSRP reported by a number of importers.
Hat tip to Chuong over at GottaBeMobile for pointing out this story.