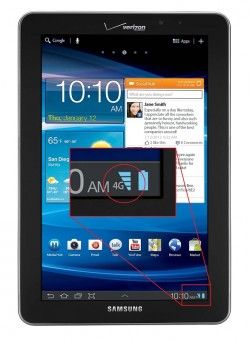 The Samsung Galaxy Tab 7.7 equipped with 4G LTE is finally touching down at Verizon starting in just two days. It's been a long time coming, but starting March 1, you'll be able to pick up the premium tablet for $499.
What do you get for $499? Well, first there's the much lauded 7.7″ Super AMOLED Plus screen with 1280×800 resolution, then you've got a 1.4GHz dual-core CPU, 1GB of RAM, a 3.2MP rear camera (2MP front), and 16GB of storage, all contained inside of a sleek 7.8mm thick casing. This version of the Galaxy Tab also has that wonderful 4G LTE functionality that has proven time and again to be the speediest mobile data network in the 'states.
The only show stopper? Verizon and Samsung indicate that the Galaxy Tab 7.7 will still be shipping with Android 3.2 Honeycomb. Given that the Galaxy Tab 2 (7.0), Galaxy Note 10.1, and Galaxy Tab 2 (10.1) were all just recently announced with Android 4.0 Honeycomb on board this is somewhat of a disappointment. Given the bad track record of updates for Android products — if I was in the market for a new tablet I might just wait until an official date for the release of Ice Cream Sandwich on the Galaxy Tab 7.7 before making a purchase decision.
The Galaxy Tab 7.7 was announced all the way back at IFA in September 2011. Since then, we've been watching carefully to see when the Tab 7.7 would make it stateside. The very last we had heard about the Galaxy Tab 7.7 release date was during CES 2012 in January when Verizon and Samsung said that the device would be arriving "in the coming weeks". Wow, it's been a long time coming! The $499 price point meshes well with our prediction from the other week, and unfortunately, so does the lack of Android 4.0 Ice Cream Sandwich!