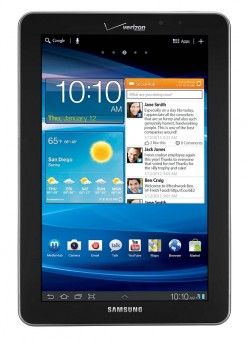 The Samsung Galaxy Tab 7.7 is officially going to land on U.S. shores with a 4G LTE variant that will be carried by Verizon. It's great to finally have this confirmation straight from Samsung/Verizon as it's been a whopping 5 months since the Galaxy Tab 7.7 was announced during IFA in September 2011.
Since that original announcement, we've heard conflicting reports about Samsung's plans for release in the US. At the end of September 2011, the Galaxy Tab was spotted rolling through the FCC, cementing our belief that it would eventually see a US release, however, months went by after the FCC discovery with no announcement from Samsung.
The Samsung Galaxy Note, which was announced at the same time, also had a relatively lengthy history of ambiguous US release plans. Recently, Samsung announced that the Galaxy Note would be hitting the US carried by AT&T.
Samsung and Verizon made the announcement that the 4G LTE equipped variant of the Galaxy Tab 7.7 would arrive in the US during CES. The announcement says that this will happen "in the coming weeks", so we expect to hear more soon. Unfortunately, no Galaxy Tab 7.7 release date or price accompanied the announcement.
The Tab 7.7 is currently the most premium 7″ tablet on the market with a 1280×800 AMOLED screen, a 1.4GHz dual-core CPU, and now, 4G LTE connectivity. At 340 grams and 7.9 mm thick, it's also one of the lightest and thinnest. The only thing it's really missing is Android 4.0 Ice Cream Sandwich, though Samsung says they'll update the Galaxy Tab 7.7 to ICS eventually. Currently the device runs Android 3.2 Honeycomb out of the box, and it doesn't sound like it'll see the ICS upgrade prior to its Verizon US debut. Thanks to these premium features, you can expect to pay a premium price when the Tab 7.7 launches on Verion. Given their current tablet lineup and pricing, I'd expect the 16GB version of the Galaxy Tab 7.7 to be priced between $500 and $600.
It's interesting to note that Samsung has decided to launch the Galaxy Tab 7.7  on Verizon and the Galaxy Note on AT&T. I'm not sure if there's a strategy to that move (it could just be to keep the carriers complacent with exclusives), or if it was just the roll of the dice. No word on this point if either device will go cross-carrier, but I suppose time will tell.