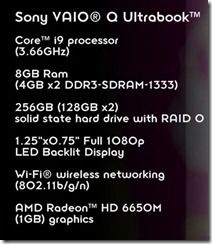 Update: It wasn't too difficult to spot the 01.04 on this right? Sony seems to have done very well with the joke though which was probably set up by a PR company. Search for a Sony Ultrabook on Google now and you're likely to see the Series Q listed.  I suspect this is just the start of a Sony Vaio Q Ultrabook campaign.
Just how do Sony manage to do this every time? They led the way with their high-powered handheld UX-series UMPCs and it looks like they're doing it again. This time round it's an Ultrabook.
The Sony Vaio Ultrabook looks incredible.
256GB SSD, 1080p display and discrete graphics.
You wonder just how far behind even the high-end Ultrabooks are going to look when this one launches. Video below.