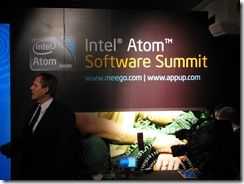 The Atom Software summit is just kicking of here at Computex. We're expecting to hear about roadmap, support for advanced features such as multitouch, sensors, gestures. Different UI models from handset to netbook will be shown too. There's also some hardware here that we'll get to play with.
Stay tuned for updates throughout the day because later we join the ultra mobility group for their presentation.
Update: Full overview of the session is now available.
Hello from the Intel Atom Software Summit at Computex Taipei.