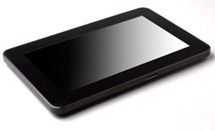 We've already had an Advent Vega [tracking page] order cancelled due to high demand but its looking increasing like new stock isn't going to arrive before Christmas.
Its no surprise really, at £250 its cheaper than many of the alternatives like the Viewsonic Viewpad 7 (£400) and the Samsung Galaxy Tab (£449) and yet for your money you still get a good specification. With Android 2.2, nVidia Tegra 2 dual-core 1GHz CPU, WiFi, 512MB RAM, 4GB expandable microSD storage and a multi-touch capacitive 10.1 inch display, its certainly no slouch.
The early reviews are as we expected, good hardware but the lack of Google applications and access to the market leave the device feeling bare. I've also seen several mentions of user interface lag and keyboard freezes which result in several letters being pressed instead of just the one.
Luckily both of the above can be remedied with a little work and the help of MoDaCo.
Until we can finally get hold of a unit for review ourselves you can keep your need for more information in check with the following reviews;
The gallery and tracking page are also now online so you can compare the Advent with its competition and if your interested in the Vega, follow @adventvega for the latest information and stock updates.