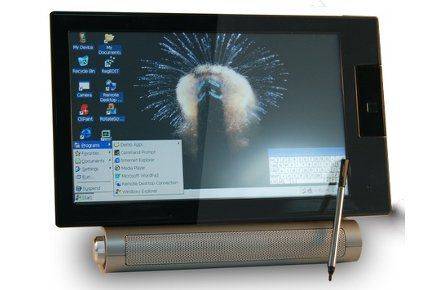 The device was apparently first announced at Computex. I don't recall reading any news on it but it did make me laugh. Just look at the headline:
Albatron's "Tee PC" is all that you need with not an inch to spare
As the article on HotHardware.com mentions, it comes out of the box with Windows CE 6.0 and everything you need preloaded: WordPad, MediaPlayer and Internet Explorer…right. The device has both WiFi and Bluetooth, weighs 343 grams, has a 400Mhz ARM926 processor, 128 MB of RAM and 128MB of flash memory. On the device itself there is an SD card slot, a camera, and a headphone jack while the included docking station has two USB ports, built in speakers and line in/out. Assuming you can get a good time-telling application, it would make for a decent bedside alarm clock

Quick Update: The dimensions are 18.8×11.3x 1.3 cm, and the screen is 7 inches. 
Source: HotHardware.com