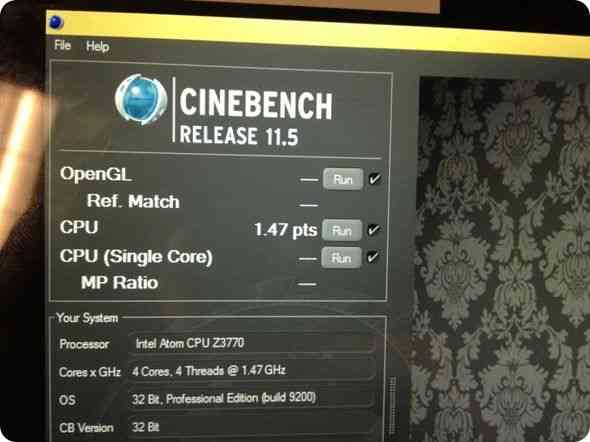 The Acer W510, a nice Clovertrail-based Windows tablet has what I call 'bearable' Windows performance. AMD Temash, the quad-core platform for low-cost notebooks has what I call 'good mainstream' performance. It looks viagra jelly like BayTrail's CPU performance will go up to 3X that of the Clovertrail platform and equal that of AMD Temash quad-core. At IDF, which started for me today, we'll hear a lot more about BayTrail and we expect to see device launches in the next 24-48hours.
In the Cinebench test result, posted by an Intel engineer, we see a Cinebench score of 1.47 points. The CPU is a Z3370 which, based on the information we have, one of the high-end models. It's quad-core running at 1.47Ghz. Based on some leaked information, it could be a Celeron branded part.  (Celeron N2805?Bay Trail-M??dual-core 1.46GHz?TDP 4.5W)
At 4.5W TDP this could be used in a larger tablet or entry-level notebook. There will be SKUs, however, which won't have this level of performance. Single and dual-core Bay Trail CPUs are expected.
BayTrail will launch within the next 48 hours. Stay tuned for official news, performance and products from IDF 2013.
Via Extremetech