In May 2007, Intel told the world that they saw two markets for the UMPC. One, a higher-end market for professionals and productivity users. The other, a low-end market focused mainly on smaller, cheaper, less powerful entertainment and communication devices aimed at the consumer. This consumer market is something that Raon Digital has been focusing on since they launched their first UPMC back in August 2006 with their 4.3″ screen, AMD Geode powered Vega UMPC and a year later, Raon are continuing this focus and still seem to be ahead of the game. The Everun has launched with the same small form factor and long battery life as the Vega but with some additional and unique features along with a great price. UMPCPortal was lucky enough to get a production sample S30H for long term testing and here's the full review.
Overview
It doesn't take long to pick out the main features of the Everun. The casing is literally covered with a total of 90 buttons. That includes a full QWERTY keyboard and full function-key set. The keyboard is positioned so that it works in the portrait mode and is a unique design feature. It's light (sub 500g) and stylish too. The Everun is, like the Vega, powered using an AMD Geode processor (500 or 600Mhz options) and comes with another unique feature – an SSD drive. There's also a PCI-Express mini slot, 1.8″ hard drive and a good array of connectors. Further specifications include auto-screen-rotation (another unique feature), an optical mouse with integrated left-click button (yet another unique feature) high brightness screen, extended battery, docking station and an options for HSDPA and Webcam. Pricing starts at $799 and goes up to $1099 for the full-specification model.
View all Everun variants in the ultra mobile PC product portal
First five minutes
The production sample we got for this review was kindly brought over by Raon on a recent marketing tour and so my first five minutes were actually spent in a hotel lobby. As with all UMPCs, no matter how small you think it is in a picture, when you see it for real, its always smaller than you expect. Its light but feels solid in the hand due to its compact size. The materials appear to be high quality and there's no button rattle. Turn the Everun on and you'll see a lovely high-brightness, high-contrast screen, a fairly swift boot-up time (Windows XP Home) and the familiar XP interface. The temptation is to try the keyboard but you need to use the optical mouse first. I noticed that it was intuitive – much like a trackball and much easier to get used to than a synaptics mouse pointer. Notepad started up quickly and then you're looking at a landscape-mode screen with a portrait mode keyboard. I've seen the auto-rotate function on the Everun demonstrated before so I turned it through 90 degrees and lifted it to the vertical. It worked very quickly and there I was, typing on one of the smallest keyboard-included PCs in the world.
From the outside
When I saw the first images of the Everun I wasn't over-excited by the appearance. It reminded me of one of those horrible looking rugged handheld devices that delivery people carry and it set an image in my mind. In real life, though, its totally different. The materials appear to be high quality, the silver trimming is attractive and its easy to hold in one hand. There's absolutely no question that this is a coffee-shop winner! Trust me, I've tried it. I was king of the coffee shop surfing club and it felt good! On the front fascia you'll see most of the keys, the optical mouse, mic and status lamps and around the outside are the USB host and client ports, screen resolution change button, audio/lock button, separate headphone and mic ports, the shift, alt, ctrl and FN buttons, audio/brightness rocker switch, power button and a docking port. More about the dock later – its not available just yet but sounds exciting. The back is completely covered by the 25W/hr standard battery with a stylus access hole on the top left. Unfortunately there's no stand but there's a hole for the stylus so that it can be turned into a stand.
The main QWERTY keyboard contains 56 keys and includes numeric's and a useful windows key. The shift, ctrl and alt keys are located to the left of the keyboard when in the portrait mode and are repeated on the top for use when in landscape mode. Key pitch is 7mm which is much less than half the standard 19mm key pitch and even less than the Sony UX at 8.6mm. its comparable with the type of thumbboards you find on smartphones and has a fairly hard click action which is there to prevent you pressing multiple keys. With a flat thumb you can easily cover 9 keys at a time so you have to bend the thumb and use the center tip of it, just behind the nail. People with long nails will have a problem because flattening the thumb results in less accuracy. The keyboard can actually be used in landscape mode and its extremely useful to have. If you browse regularly, you rarely have to type in more than two or three of the first characters of a URL until it is matched by the browser history. having the keypad there makes it really quick to do this. Quicker than using the TIP on a tablet PC and quicker than sliding out a keyboard on something like the Medion UMPC. When combined with the Windows key and the mouse, its also very quick to find folders and files but typing the first letter of the folder or file name. It does have limits though. Even in portrait mode where the resolution is a restrictive 480 pixels wide, its difficult to type more than a short email, IM or forum response. I found myself dropping capitalization and punctuation to speed up the operation. After a week, my typing rate wasn't going to get any better than 40% of my normal typing rate. That's comparable to a Sony UX or an experience T9 user.
Take a look at the Everun keyboard demo video.
Integrated into the keyboard layout is a new feature for UMPCs – an optical mouse. Its the first time I've ever used or even seen one and I have to say, as a mouse pointer fan, that its the best mouse pointer I've ever tested. Its quick to get used to, accurate and even feels nice to touch. It operates like a mini roller-ball and when you press it down, you get a left mouse click. Its faster, easier and more accurate than using a finger or pen and when used with the 'FN' key, it turns it into a scrollwheel. Its great! Oh, and while I'm talking about that FN key, let me mention that it modifies the action of about 10 buttons. For example it turns the optical mouse button into a right mouse button, it turns the volume rocker into a screen brightness rocker, it turns the mute button into a lock button, there's also a number of functions under the normal functions keys like LAN enable, WAN enable, rotate lock, LCD off and cursor/gamepad mode (where the cursor control can be used as an 8-way joystick and the 1-6 buttons correspond to joystick buttons.
Before I talk about the internals, I'll just mention that the standard battery which at 166gms and 25W/hr is similar is weight and capacity to most 7″ ultra mobile PC batteries. A 44W/hr battery is also available which appears to add about 4-5mm to the thickness and I estimate 80-100gm to the weight.
One question asked a lot is 'Is it pocketable.' Yes and No is the answer. It won't fit in your back-pocket or a shirt pocket but it will fit in a suit or coat pocket without much problem. it will fit in the smallest of gadget bags and although I'm no expert, most handbags.
Everun On the inside
The base technical specifications are as follows:
CPU type – AMD Geode LX800 (500mhz) or LX900 (600Mhz) specifications:
64K I/64K D L1 cache and 128K L2 cache
Split I/D cache/TLB (Translation Look-Aside Buffer)
64-bit DDR Memory interface up to 600MHz (LX 900), up to 400MHz (LX 800), up to 333MHz (LX 700)
Integrated FPU that supports the Intel MMXâ"¢ and AMD 3DNow!â"¢ technology instruction sets

9

GB/s internal GeodeLinkâ"¢ Interface Unit (GLIU)
Security Block – 128-bit AES (CBC/ECB) – True Random Number Generator
2.6W Typical (5.1W TDP) @ 600MHz
1.8W Typical (3.6W TDP) @ 500MHz
1.3W Typical (3.1W TDP) @ 433MHz
Additional specifications – Everun
RAM – 256MB (entry level) or 512 (all other models)
Graphics – AMD Geode on-board graphics. 2D hardware. AMD 3DNow. No Direct-X hardware.
ATA-6 hard drive interface (up to 100MBps)
Optional 6GB Solid state disk
Optional pre-install hard drive. 30Gb/60GB Toshiba – 5mm high.
PCI-Express Mini slot (possibly only wired for USB2.0 connectivity – the AMD southbridge doesn't have PCI-Express as far as I know.)
Also included is USB client connectivity which means that when the device is turned off, it operates as a USB drive (no power needed on the Everun.)
Software
The Raon Digital Everun comes pre-installed with Windows XP Home. There is an entry-level 6GB SSD version available with Windows XP Embedded but this was not available for testing.
During discussions in the Everun forum the question of 'why no XP Tablet Edition' came up a few times. There are a number of reasons why this device doesn't have it. Firstly, cost. The licence for Tablet Edition is more expensive that XP Home. Secondly, and more importantly, its really not needed for normal operation. Tablet Edition brings a number of improvements for a touch screen but these are mainly centered around the use of a floating Touch Input Panel. On a device so small with an included keyboard there are very very few cases where this would be an advantage and with the small screen, handwriting or even the on-screen keyboard would be difficult. XP Home seems to be the right choice for this device and if you want XP TE then you can install it yourself. It should work with no problems and the drivers used for XP Home should work fine.
Performance
A 500Mhz / 600Mhz processor isn't going to scream along that's for sure. If you're used to desktop PCs with 2Ghz dual-core processors then you will certainly have to change the way you work to get the best out of this device. Concurrently operating programs can be very slow and performing, for example, zip file unpacking, is noticeably slower. But this isn't a device targeted at desktop usage. You will mainly be running a broswer, maybe a media player with an email program in the background and maybe some IM software. This scenario should be no problem for the LX800 or LX900 processor. Application performance was the subject of a demonstration video that I made and you'll see many applications working fluidly. The only real problem to highlight is video performance with QuickTime and WMV codecs. Files over 1Mbps seem to be a problem and if you use a lot of WMV files then I wouldn't recommend the Everun. If you use DivX, however, then the Everun performs fantastically. There's definitely a marriage there because where WMV files over 1mbps can be a problem, DivX/XVid files run up top 3mbps without any issue at all. In fact, I've had 720×500 4mbps files running perfectly on the Everun. It looks fantastic.
The good 2D performance is echoed in these CrystalMark test results. HDD speed is good too but floating point and DirectGL results are very poor.
Before you ask, No! Its not a device thats truly Vista-capable. XP is far more suited to this device.
Boot-up, standby, hibernate speeds
Boot-up on a fairly clean device (about 5 or 6 extra background processes) takes 45 seconds to the login screen and 55 seconds to the welcome sound. Final user login takes about another 25 seconds. Compared to other devices its not bad and compared to Vista, its great!
Hibernation takes an average 20 seconds in and about 30 seconds to resume (BIOS checks take 16 seconds)
Standby is a quick 4 seconds (resume)
Battery life
I haven't performed a full battery life test on this device yet as I'm told there are optimizations needed for the final production hardware. Even so, without any optimization at all I am getting 4 hours WiFi-on browsing usage out of the standard battery. As a Video-playback device or E-book reader, 6-hours on the SSD version should be no problem. In short, the battery life is very impressive and should be better on the final production devices.
Real-World performance
Statistics are statistics. Lets talk about real-life scenarios now.
Audio
The built-in stereo speakers are quite impressive. There's very little bass as you'd expect but the volume, separation and clarity is good. Very similar to the Nokia N800. Don't expect to use this as a boogie box though. External speakers are a must-have for that but having linked it up to some for a test, it outshines the Q1P quite easily. I'd much rather have this driving my Hi-Fi than the Q1 especially as it has hardware bass and treble control which doesn't take up processing power. The built in mic is also fairly good and as a voice recorder, the Everun could find some use. The audio hardware is fairly clean (free of noise) which is typical of UMPCs.
Screen brightness is quoted at 280nits which is quite a high figure. Side-by-side with the Q1P and Q1b its at least as bright if not a little brighter. Its useable in bright daylight but not direct sunlight. Direct sunlight requires either a reflective or very high (500nits+) screen and you don't find that sort of technology on many UMPCs. Contrast on the is also very good and theres a huge viewing angle which stretches right beyond usable angle in every axis. There's a slight shimmer on the Everun screen which you don't get on the Samsung Q1 screen. The screen has a matt, anti-glare finish.
Non native resolutions up to 1024×612 are clear and useable for short periods, especially with Microsot ClearType enabled. Text size is extremely small at this level though. Screen resolution change is very quick (sub 1-second) and much faster than any Intel or VIA-based UMPC.
Another nice feature of the screen is that you can turn on an auto-dim feature. To the left of the CPU lamp is a light sensor that continually adjusts the screen brightness. You can set a brightness offset in the Raon control panel and it works very well. The only problem is that at very low levels, you can see the brightness adjusting between various levels. Its a minor point though.
The touchscreen is a light-touch (finger) sensitive part. Not at all useful for handwriting due to screen registration/vectoring issues. YOu can see this demonstrated in this (rather rough) video I made showing inking in EverNote and GoBinder
Video performance
I've already mentioned video performance above and recommend that you watch the video that I made. In summary WMV plays up to about 1mbps which is enough for most online video blogs, QuickTime performance was very poor and YouTube was only useable with the flash plugin quality settings set to low. YouTube performance is better than the Nokia N800 though. XVid and DivX performance is impressive with 2-3mpbs playback easily possible. Streaming from the DivX site, Stage6, is a pleasure.
Heat and noise
Simple. No heat (some warmth though) and no noise! There is a fan in the device but its very very quiet.
Stability
No issues seen so far (2-weeks heavy use) I had one blue-screen when I tried using the USB client functionality in standby which is not recommended.
Application tests
iTunes – works. Does not play back videos. No album cover or video cover preview capability.
Livewriter – works.
Firefox 2 – works (including plugins)
YouTube download plugin – works.
Inscribe on-screen keyboard – works.
Skype 3.2.0.163 – Works well (when running on its own. Processor is 100% while running Skype.)
GOM Player – works. (Recommended – its an efficient player)
PaintShop Pro 7 – works. Again, a nice efficient version of this program.
Office 2003 installs. Excel, Word, Powerpoint work.
Mobipocket reader. Works. Recommended.
Keyboard
The keyboard is definitely not provided as a replacement for a normal keyboard and I want to be honest – there is no way that you will be able to input long text pieces accurately with it. Its speed is 40-50% of a users normal typing speed at best and the awkward position of the Shift, CTRL and ALT keys mean that grammar and capitalization is difficult (NOTE: Raon Digital said they will re-position the Shift key for easier usage on the final production model) The space key should also be bigger and perhaps a little lighter to select. (Again, Raon have reported a change to the final production model WRT the space key.)
The keyboard isn't useless though. Far from it. Having this keyboard it your side all the time not only allows you to input URL's, passwords, IM's, short emails and forum entries with ease, it allows you to speed up file searching, select URLs from history quickly and many many shortcuts commonly found in programs. F5 for refresh and F11 for full-screen are two very good examples. Its far more useful to have a key just centimeters away from your thumb rather than having to get out a pen and enable an on-screen keyboard. Considering its size and positioning and the fast auto-rotate feature, its very useful and I can't think of a way that you could better integrate a keyboard in such a small space. A slide-out keyboard would add at least 5mm to the depth of the device and for quick URL selections would be slower than the thumboard. Considering that a docking station is going to be available, this is a well though-out addition to the hardware.
I reviewed the keyboard in a video that's available at Blip.tv (hig quality) or YouTube.
WiFi/Bluetooth
Unfortunately, on this hand-built production sample, the WiFi was not working properly (bad hand-built aerial, probably done on a Friday afternoon!) and the Bluetooth was locked down to 115kbps. As soon as I'm able to test a full production model I'll update this section. The Bluetooth device is unknown but is driven with the BlueSoleil stack. The WiFi module is a Marvell SD8686
USB slave/client feature.
As on the Raon Digital Vega, the Everun allows you to use the device as an external USB drive when its off (won't work in standby or hibernation mode) This is a very useful and fast feature. To be able to plug the Everun into a desktop PC and sync music as you would using a USB stick or MP3-player is a great advantage and to have a 60GB of USB hard drive is also very useful. I personally recommend creating a new partition for this feature though. It could be very easy to mess up a C:/Windows directory! [Note: There is a USB drive lock feature on the Raon management application. This appears to disable the USB drive function although the draft manual implies that it could be a read-only feature. I will update this section when I find out the real answer!]
Read speed (From Everun to Q1b) was about 12MB per second (100mbps) and write speed was 17Mbps (143mbps) suggesting that the write speed of the Q1b hard disk might have been the bottleneck. In both cases though, its faster than Ethernet 100mbps and likely faster than most SD/CF cards which makes it the best option for transferring large files.
Accessories
Again, the lack of a production model prevents me from showing the in-box contents but you should expect to get a stylus, soft bag, a wrist strap and a very useful VGA adaptor. This allows you to drive external monitors or projectors up to 1920×1440 resolution.
Optional accessories
At the time of writing this review a number of accessories have been announced but details or images are not yet available. The most interesting is a docking station which will have VGA, Ethernet, three USB 2.0 ports, audio, video and digital audio outputs. It also includes a fast charger. This could enable some nice audio and video playback scenarios or even a low-end desktop. Combined with a small portable 10″ LCD screen it could make a great little portable office.
Also in the optional accessory line are a hard case, leather case, large-capacity battery (40W/hr) and a car dock.
HSDPA
On many of the marketing materials seen for the Everun there is mention of HSDPA/Wibro capability. It should be made clear that on all the consumer models released to date, the HSDPA is not included. This functionality has been seen working though and its implemented by putting a PCI Express Mini card on in the slot available. If you are thinking of dropping this card in yourself you will have to consider that there is no aerial built in. This would have to be added making it a non-trivial project. For a demo of voice capability, see the UberTablet blog.
Power saving mode
By default, the LX900 is set to step between one of three processing speeds. 400, 500 and 600Mhz. To be honest, there isn't much difference in 'feel' between these modes as they drift seamlessly up to the highest level when needed. If you require the longest battery life though and don't need processing power (listening to audio, reading an e-book for example) you can lock it at 400Mhz. There are two buttons on the top of the device that control the power saving modes.
Testing the FPU under Crystal mark with 400Mhz returns 594. With the processor able to free-run up to 600Mhz, it returns, 890 proving, at least, that the feature works!
Raon device management application
1 – Shows elapsed time from Windows' startup.
2 – Set battery alarm
3 – Indicates the remaining battery and external power supply connection.
4- Shows audio volume level, mute status and controls sound volume.
(You can enable Mute for the left speaker only.)
5 – Resolution setting
6 – Shows Lock status of input devices. You can lock the input device by clicking it. (Lock off is by separate key.)
7 – Performs touch screen calibration.
8 – Shows if it is in arrow key/game pad mode. Click to convert between the two modes.
9 – Settings related to the keyboard lamp(backlit).
10 Enables/disables the USB HDD function for increased data security. (If Everun is in standby or Hibernate mode, Lock
is automatically enabled. The machine must be fully switched off to use as an external HDD.)
11 -Shows WAN status; click to turn it on or off.
12 – Shows and adjusts LCD brightness.
(If Auto is selected, brightness is automatically adjusted to ambient light.)
13 – Shows screen orientation. Click the button to rotate the screen.
14 – Shows and selects the CPU clock control mode.
It works well and takes very little resource. A useful application that should be left running at all times.
Upgrading
A few notes on upgrading. The HDD is easily accessible under the battery but according to the warranty, is not a user-replaceable part. Having tried it myself, its an easy job to replace the drive with anything up to the 100GB drive available in the Toshiba 5mm 1.8″ drive range but be aware that it will invalidate the warranty. Your dealer maybe authorized to do drive upgrades. The 6GB SSD option is a motherboard option and is not removable or upgradeable. The 256 or 512MB memory is soldered directly onto the motherboard and again, is not upgradeable.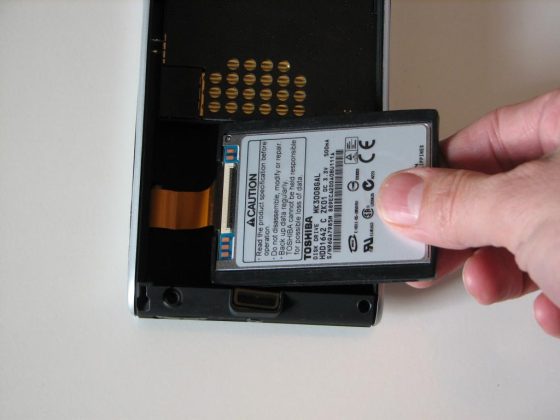 I know a lot about UMPCs but I don't know much about E-book readers. However, it appears to me that the Everun could be the e-book reader to beat all e-book readers. If you take the base 6GB SSD version at $799 and consider that it has auto rotate, auto-screen brightness and at least 5 hours e-book life with the standard battery and then consider that its actually a PC too, well I don't know of any other device that's quite as capable as the Everun. I wrote a short article about it on the portal so I'd be happy to hear feedback about that.
Linux
Of course, Linux installs, as on all UMPCs. The problem is that common distributions don't include drivers for all the devices. Touchscreens, special keyboard buttons, WiFi and Bluetooth are often unsupported. However, there doesn't seem to be any special devices on the Everun. It would be an interesting exercise to see if a distribution like Ubuntu Mobile could be tailored for the Everun. A job for the community perhaps. If you manage to get Linux running well, let the portal members know in the ultra mobile PC developers forum.
Comparison to similar devices
The Everun is such a unique device that its difficult to compare it to anything. The nearest device in terms of size would be the Nokia N800, the Vega, the OQO Model 02 and, perhaps, the Sony UX, Fujitsu U1010 and Amtek U560. In the Smartphone class, the HTC advantage, Sharp Em-One and other devices look similar but in terms of pricing and features, the Everun appears to be on its own. No smartphone based on either Windows Mobile or Symbian is going to come close to the flexibility of the Everun. Looking at the OQO and Sony UX, pricing is a major issue. Base models of these two devices are double that of the Everun.
The N800 is the closest competitor and if you're only considering audio, video, email, IM and web browsing, its possible that the N800 could do everything you need but there's really no software flexibility in the N800. Having an x86-based Windows XP device in your hand makes a lot of difference.
See comparable ultra mobile PC models side-by-side in a configurable, comparison window.
Who is the target customer?
Obviously this is not a device for productivity. Creating content is not the Everun's forte but outputting content is. Here are few scenarios to consider.
Powerpoint presentations. With the VGA cable attached, you have a fully capable powerpoint presentation device in under 500gms.
Commuting. For certain types of video and all types of audio, this is a device that fits nicely in the briefcase ready to entertain on trains, planes and buses. battery life with the extended battery would be long enough for some very serious long-hauling. Checking emails, news and RSS feeds via a tethered mobile phone should be a breeze. (OK, maybe not on a plane!)
Portable Media Player. With full windows XP capability, iTunes, MusicMatch, Rhapsody and all the other popular audio programs will work. Its not the best all-round media player but if you're prepared to use DivX (see DrDivx free encoder) then you're going to get top-notch playback.
House PC. For basic web browsing, email and IM, the Everun should be fine and should be able to operate as an occasional desktop PC.
CarPC. Its small and light enough to mount in a PDA holder. By using Windows XP navigation software and some overlay software like InCarTerminal or RoadRunner this should make a very flexible dashboard addition. Partnering with a Bluetooth-capable car head unit (Sony Bt2500 for example.) should make it even more useful.
Dictation machine/Audio reporting/interview device. Its rather an expensive solution but bveing able to use the device for this just adds to its value.
Faults and Issues
Small size of space button
Location of Shift, CTRL, Alt buttons (apparently being worked on my Raon for final release device.)
No media slot. (although the new USB/SD cards are one solution to that problem.)
Battery does not integrate into Windows power settings. (appears as an external mains power supply.)
Fully specified 60GB/6GB SSD version looks expensive for a 600Mhz PC with no 3D graphics.
Battery compartment latch affects the comfort in portrait mode.
Processing power is very low compared to notebook PCs.
Summary
The Everun the first ever consumer focused ultra mobile PC that gets it right. It has a great balance of hardware and software features in an small and stylish package. Unique features such as SSD, auto-rotate, optical mouse, auto screen dimming, USB client mode and auto key backlighting prove that a lot of thought has gone into the Everun. Build quality seems good and battery life is more than acceptable. Even the pricing is good. What's bad to say about it?
Well the keyboard layout could be better and it would be much more useful if a media card slot was available. The early promise of HSDPA for $799 is certainly not true and in full-spec, its not as cheap as it first sounds. The question is, how long is it until an Everun killer comes along? I personally don't think we'll see anything this side of Christmas that will match the Everun for consumer satisfaction although the Fujitsu ultra mobile PC and Amtek U560 would be devices to watch carefuly.
More information
The full product specifications
High quality gallery of Everun images.