Update. It appears that we might have stirred the sales and marketing groups into a re-think. The M528 3G pricing has dropped to 1199 AUD overnight which is a much more accpeptable pre-order, early adopter, Australian market price.
Update 2. There's some back-pedalling going on with pricing following our story. Gigabyte say they haven't agreed any pricing yet. Details here.
Interested in mobile Internet devices? You know, the ones aimed at the consumer with consumer features and consumer pricing? Then read on… Tegatech, a well-respected ultra mobile PC retailer in Australia has recently signed a deal with Gigabyte for the distribution of it's UMPCs and MIDs in Australia and New Zealand and has sent out an email to it's media contacts announcing that my favorite MID, the M528 is on their books. A quick look at their website reveals that, yes, the M528 is listed, still looking very desirable, with a nice 8GB flash drive, the 3MP auto-focus cam, an 800×480 touchscreen, 11Wh battery, built-in GPS, 3G radio and an 800Mhz Intel Atom processor. With a pocketable size, a pocketable weight and that slide out keyboard it's a dream device for many. So what's the cost? [After the image]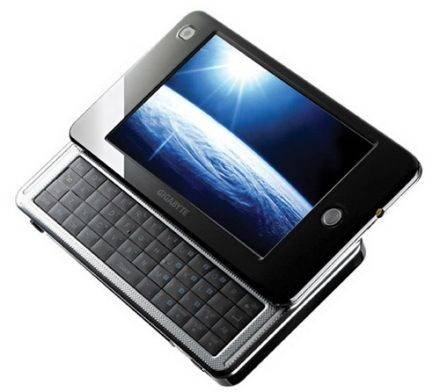 You pay: About $1450. (1549 AUD, 941 Euros, 750 UK pounds) Yes, I've double checked the currency conversions but feel free to re-check my figures because I'm hoping someone has made a mistake somewhere down the line!
Things to consider here include the fact that Tegatech are first out of the gate (if it was me I'd also add 10% for being the first to offer a desirable product) and the Australian sales tax that's included in the price. (10%) Also add another 10% for Australian pricing and perhaps 10% for being a specialist retailer but that still leaves you with a $900 price for a product that's supposed to be giving consumers the Internet in their pocket. Of course for me, its probably worth it as I've previously paid more for lesser devices but I'll let the comments speak for themselves on this as I think I know what the response from most people is going to be.
Final specs have also been received here (and are available here in a PDF document) so I'll update the product page as soon as I've re-gained the desire to blog about UMPCs ;-) In the meantime, tell us how much you'd be prepared to pay (in pre-tax $US) for the 3G-enabled M528 MID below.
M528 ETA Late June 2008. (As expected.)
Source: Tegatech Australia.