The Acer Aspire has been officially launched. I think we need to go straight to a photo first…

Click to Enlarge.
And then there's the second good bit of news – the price. $379.
The specifications look reasonable and include
Intel Atom @ 1.6Ghz

8.9" LED-backlit 1024×600 screen,

512MB of RAM

Linupus Lite OS

8GB of SSD.

SD card reader (5-types)

Four colours: four colors – sapphire blue, seashell white, golden brown and coral pink

248mmx170mmx29mm

3hrs (3-cell) and 6hrs (6-cell) battery options.

Options: 1GB RAM, 80GB HDD. Windows XP
3G and WiMax options to be available later in the year.
Live images and comment from Sascha follow…[Click here]
Sascha from EeePCNews.de has already had hands-on. Here's what he told me via IM a few minutes ago.
[08:14] Sascha:acer is very good in terms if manufacturing quality
[08:14] Sascha: and they have a great linpus fork
[08:14] Sascha: fast
[08:15] Sascha: good design
[08:15] Sascha: screwed touchpad
Haha. It's that strange touchpad that caught him out. I think its something you'll get sued to very quickly though.
In this live image from Computex, we've got the Aspire One and 900 side-by-side. The 900 is actually a bit smaller than the Aspire but I doubt anyone is going to argue over the difference!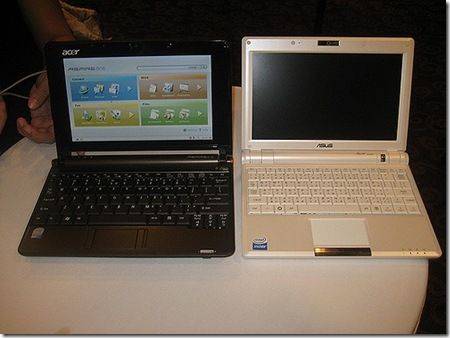 As for the keyboard, Sascha says its 'good' and at 89% of full size (ref) is probably going to be more comfortable than the Eee 900. All in all, I think we're looking at something slightly better value than the current Eee 900 and on-par with the MSI Wind. MSI and ASUS have some real competition here.
We're just organising a hands-on video which will be available later but in the meantime, check out the first set of live photos at eeepcnews.de.
Full specifications available in the database.
Press release at Business Wire