That apple-red Dell netbook you may have spotted a few weeks ago is expected to be hitting the market in August, but its keyboard will be lacking a dedicated row of F-keys. For certain users this is nearly preposterous. However for some, such as myself, it isn't that big of a deal. I personally could live without a dedicated row of function keys. I don't use them frequently enough to justify a whole separate row. That being said, they should still be accessible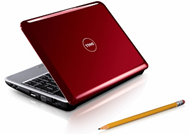 through a modifier key which at this time APCmag is saying that is not the case.
It's true that the alpha keys are all of a good size, although others are noticeably slim, and the function keys have been dropped altogether: the Fn modifier activates hardware-related shortcuts mapped onto the keyboard, with no facility to call up the usual F1-F12 keys. [my emphasis]
It's one thing to remove the row of keys entirely, but not providing a way to press them at all is a peculiar decision on Dell's part. It may have something to do with the target audience. While tech enthusiasts will inevitably end up buying the Dell netbook if it turns out to be a quality product, Dell says it is targeted toward students and first time computer users. If Dell's audience for this netbook is truly first time computer users, removal of the row of function keys makes a bit more sense. First time computer users are certainly not acquainted to keyboard shortcuts and only a small percentage would make use of them. So why not remove these keys and be able to make the rest of the keys more finger friendly? Sounds logical to me at least.
The yet to be named 9″ Dell netbook is predicted to feature Intel's Atom, and knowing Dell, XP and Ubuntu will most likely be choices for the OS. Specs have not been announced yet but Dell says they will bring the product to market "…later this summer", expect to specs in the next few weeks.
What is everyone's opinion on big companies (HP , Sony, Dell) getting into the netbook explosion?