Despite Samsung reporting just a few weeks ago that a MID will come 'sooner or later' and there only being 11 days left in June, Aving are reporting that Qualcomm are saying (ahem, not exactly first hand news this is it!) that Samsung will release a MID in June 2008. The quoted specs included a 1Ghz ARMv7 which is going to be very fast indeed. ARMv7 is the ARM-licensed architecture used inside the Cortex-based processors which are said to be four times as fast as current ARM architectures for the same clockrate. If that's right, this Samsung device could have something like 10 times the processing power of the Nokia N810. Of course, that's just based on marketing talk but even if it's half as good, this baby could really fly! The Qualcomm platform that will be used is known as 'Snapgragon' which includes the ARMv7 core, a 600Mhz DSP for A/V operations, support for high-end photography and a universal modem that will keep most anyone in the world confident that it's going to work with their carrier. Here are some of the key features of Snapdragon:
Universal Modem supporting all 2G and 3G mobile broadband standards (CDMA2000 1xEV-DO, Revisions B, A and 0; HSPA, WCDMA, GSM / GPRS / EDGE)
High definition video decode (720P)
3D graphics with up to 22M triangles/sec and 133M 3D pixels/sec
High resolution XGA display support
12-megapixel camera [support for.. – Ed]
Support for multiple video codecs
Audio codecs: (AAC+, eAAC+, AMR, FR, EFR, HR, WB-AMR, G.729a, G.711 , AAC stereo encode)
Support for Broadcast TV (MediaFLOTM , DVB-H and ISDB-T)
No images of the device were shown in the Aving article which might indicate that the launch is yet to happen at WITS 2008. The images below show demonstrators presented by Qualcomm at CES in Jan. Maybe we'll see one of them with the Samsung brand on it but it's more likely that Samsung have kept their own ID under wraps.

Qualcomm 'Anchorage' demonstrators shown at CES. (Geek.com)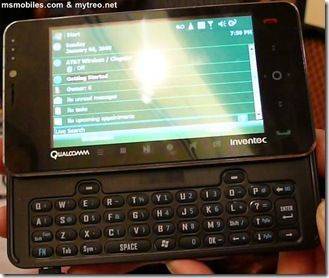 This image of the 'Anchorage' device from MSMobiles news
The big question is, what OS will we see on this device? Windows Mobile 6.1 is currently the most likely option but if you're breaking into a new product category that sits close to your existing products you might want to be differentiating it somehow. Could this be the first Android device?
Qualcomm have already said that up to 15 Snapdragon-based devices would be released in 2008 and Samsung, along with HTC, have long been known as customers so maybe we really can expect something in the next week. Will ARM beat Intel to the MID market?
WorldITShow website. News from Aving.