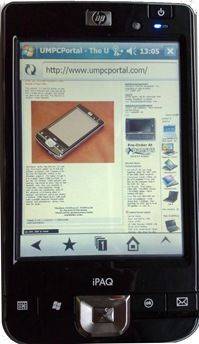 [This is the second in a series of 3 articles. See previous article here.]
After more than 6 hours of learning, playing and testing on various devices, I've come to a decision about Opera 9.5. Beta. It's technically a great browser with a very good user interface. Unfortunately though, there's a core problem out there that's out of Opera's hands. Hardware. Opera does a good job but limited processing power and small screen sizes and resolutions hold it back from presenting a full Internet experience.
In this review (video below) I'll be looking at Opera Mobile 9.5 Beta on the iPaq 214 (see previous article for information on the iPaq 214) from a mobile computing perspective. I'll be comparing the browser to what I've seen on MIDs and on Ultra Mobile PCs. In effect, I'm comparing it to the desktop. Not fair you say? I think it is. Mobile devices are now capable of running desktop software and full desktop browsers at impressive speeds. For many, the slower, although cheaper, mobile Internet experience offered by many consumer devices is probably good enough but if you rely on your browser for more than just browsing, you'll want the fastest and most accurate mobile browsing platform you can find. In the near future, consumers are going to be more demanding of their mobile browsers too. Unfortunately, as I write this, there are very few Windows Mobile devices out there that have the screen-size and processing throughput, from network to rendering, that are able to offer users the chance to experience modern web pages, AJAX applications and to come anywhere near to a desktop-standard browsing speed. Opera 9.5 doesn't appear to be any more efficient than it's predecessor either. It has some other issues too issues which i'll highlight here but please note that this is Beta software. While we are unlikely to see any more features (apart from the ones listed as disabled in the beta here), there could still be bug fixes and optimizations to sort out.
The first thing to highlight is that Opera Mobile 9.5 Beta isn't much faster than the previous version. In side-by side tests, I was getting slightly slower results with Opera Mobile 9.5 Beta than with 8.6. It feels faster though, and that's largely due to the good progressive page build and the ability for the user to work with the page before it full loads. In most cases, this makes a page useable much quicker than with other mobile browsers but if you're looking for info down at the bottom of a discussion thread, it's not going to be much faster.
Pan and Zoom makes for a slow browsing experience too.  It's a fun way to get round the problem of the small screen but it doesn't the remove the fact that you can't actually read anything until you zoom into part of a page. As a user of 800×480 screens at 4.8" and 5.6" it is instantly annoying to me that time is wasted by having to go through this process.  The same applies to the iPhone and iPod touch. If you want the best chance of interacting with the Internet as it was meant to be, you have to start with an 800×480 screen size at 4.8". That screen size doesn't currently exist in the Windows Mobile World.
Other issues:
There are still some errors in rendering. I assume these will be ironed out before launch. Technically though, it seems to be quite an accurate browser.
Some pages never finished rendering. This occurs often across different sites. Possible bug to be fixed before launch.
Many users that don't have Flash Lite 3 in their OS won't be able to view inline flash.
No in-line RSS reader.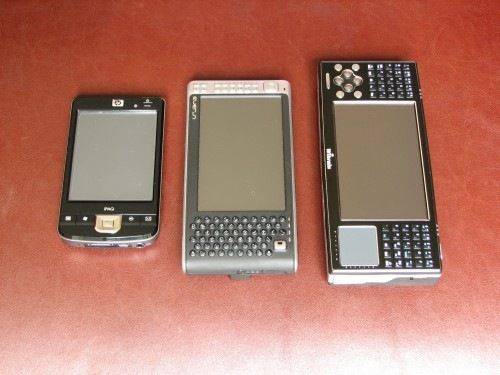 As I mentioned before though, Opera Mobile 9.5 is technically quite good. It supports AJAX well and I felt confident after a few hours that all pages would load correctly, eventually. Finger-based panning is the best way to interact with a mobile browser (best when you can read the text though!) and the multi-way scroll with momentum works well when you have the processing power. On a 400hz Smartphone, the experience wasn't so smooth but still acceptable and far better than cursor scrolling. On these smaller, lower-power devices though, I get the feeling that Opera Mini is a better option.
There are some great features for images saving and offline browsing. IE bookmarks are accessible and there's easy access to URL history and search history. Auto fullscreen helps make the most of limited screen real estate and the built-in landscape mode gives you a nice wide-screen perspective.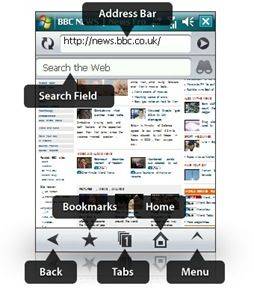 In order to show Opera Mobile at it's best, I borrowed an Ipaq 214 from PDAShop.nl and made a video that you can see below. . The 214 (known as the 210 I believe in the U.S.) is a 624Mhz Marvell-powered Windows-Mobile 6 Classic Pocket PC with a 4" VGA screen. It's not quite the 800×480 I would recommend for serious browsing but it's a lot lot better than most smartphones and with the relatively high-powered CPU, provides the best browsing experience I've ever seen on a smartphone or PocketPC. It's a shame that it's still a long way away from the experience I see with even the lowest powered UMPCs.
In summary then, Opera Mobile is good. Better than existing browsers. Its so frustrating though that there isn't any hardware out there that will let it shine and work as a browser for advanced and interactive Internet pages and applications. On today's hardware it's a long way away from the Full Internet Experience.
In the next article, I'll round-up by thinking about the future for these ARM-based Windows Mobile devices. While the hardware isn't there today, it could be there in six months. Maybe that's what Opera are looking forward to but they shouldn't forget the competition that's on it's way too. I'll be taking a quick look at that in the next article in this series. (to be published.)
Thanks again to PDAShop.nl and PDAShop.be for the loan of the iPaq 214 and don't forget, the Opera Mobile 9.5 tested here is BETA software. There are bugs to be fixed before launch. At the time or writing there are no launch date or cost details.