Last week I posted some tips on how to squeeze 3 hrs browsing time out of the Kohjinsha SC3. The method was a bit of a trick as it utilised a mobile phone data connection over Bluetooth but it was the only way to achieve 3 hours on the 20wh battery. It equates to an average 7W drain which is, even in ultra mobile PC terms, very efficient but it's not as good as I hoped from a Z-series Atom-based system.
The reason why it's not as good as I expected (and the reason why i'm not using the SC3 to write this post in my tent while the rain beats down outside) is that the Samsung Q1 Ultra (with SSD mod) is just as efficient with the previous generation Intel platform. As I write this post, perfom (try it, start->run->perfmon. Its fun to watch the battery drain) is telling me that the average drain is 6.9 watts. Meebo is running in the background, Friendfeed is updating, CPU utilisation is averaging 20%, brightness is set at 25% and I've got a LED lamp attached to the USB port to give me some light. With the standard battery, thats over 4 hours of online time. I've got the extended battery here which is showing 5.5 hrs @ 61%  battery. (9hrs total)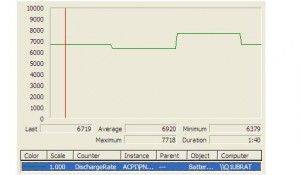 With a refresh to a 1.33Ghz Atom processor and some tweaks to the motherboard, I'm sure Samsung could shave 20% off that drain figure and produce a 5-6 hr, 600gm device. They've proved themselves as one of the best at electronic design with their Q1 products and it excites me to think about what they might come up with next – as long as it has a lighted keyboard!