What an incredibly busy day. 12 hours of IDF followed by a few hours of organising content and information gleaned from various people during the day.
You might have seen my brief coffee-break videocast from the IDF upload lounge so you'll know that I spent some time with Intel and their PR people this morning demonstrating devices. We made a couple of videos that you'll see on the Intel site soon and picked up some nice information through the keynotes and showcase sessions. (more after the pics…)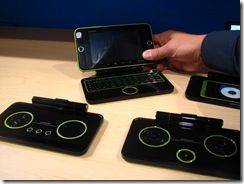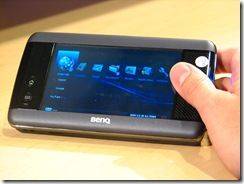 Digifriends (more pics here) and Benq (more pics here) MIDS
Obviously, the OQO news is good and even a little humorous as the device wasn't really meant to be on stage today! I haven't looked to see if the OQO PR people have responded but I guess they will stick to their plan and hope no-one else spotted the mistake. Having OQO on the Atom processor is going to bring some slight performance advantages, some battery life advantages and probably, cooler and quieter operation. It will be interesting to see if they keep the VIA C7 option. Why didn't they upgrade to Nano is probably the more important question!
This evening I met up with Wibrain, Viliv, Digifriends and Benq and got some very good hands on with their MID and ultra mobile PC devices. I've got video presentations of the device in use but there's no way that I'll get them uploaded before Thursday unfortunately. I've included some pictures and some comments below and I've uploaded the rest of the pics to the IDF gallery.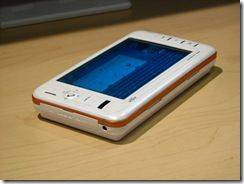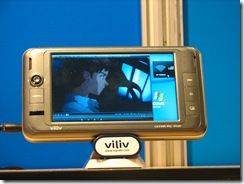 Viliv S5 MID running Intel Atom and offering 6 hours battery life.
Other news from today
A good showing of ISV's bringing apps to the MID platform. There will be a few announcements on Wednesday relating to this too.
Everyone is talking about impressive battery life figures for MIDs and UMPCs.
The Benq MID will be launched in Europe within the next 4 weeks. Don't look for it online, look for it in your local mobile phone shop! The user interface is about the best I've seen on a MID to-date.
I like the Digifriends MID. In clamshell form with the mini keyboard it looks very nice indeed and the accessory range is superb. Digifriends are aiming to have the device out in the US ASAP and it will appear under different brands in other regions.
Viliv have a couple of great offerings. The S5 is a tidy PMP-like device and the S7 a good looking convertible ultra mobile PC with an excellent keyboard. They've squeezed a 34wh battery inside it and are offering CPU variants up to 1.8Ghz. 6-8hrs battery life is a realistic figure to expect on this one.
Wibrain's i1 is a big improvement over the B1. The B1 will probably phase out after the i1 is introduced so expect competitive pricing on the i1. Entry level pricing of $550 (in the US without 3G) is the target here. Its quieter, cooler has longer battery life and is easily as fast as the VIA-C7-based B1.
There was one empty stand at the MID showcase this evening. Samsung. Their stand was in the middle of the mobile device community section. If I was a betting man I'd put money on the fact that Samsung are going to highlight their new MID tomorrow. No-one has told me anything but it makes sense that they aren't demonstrating the day before their announcement. Obviously this is an important one to look out for. The ultra mobility keynote starts at 0800 SF time.
A quick update on the devices i'm using. The Medion Akoya / MSI Wind is performing like a champ. I've been tripped up twice by the fact that it doesn't have Bluetooth but its responsiveness, quick disk and SD slot, snappy XP performance and wonderful keyboard (After testing the G10L, Acer Aspire, Eee 901 and a few other unknowns today, the MSI Wind gets my #1 keyboard rating.) it more than makes up for the lack of Bluetooth. I just wish it was a bit smaller. The SC3 on the other hand has been a pain in the backside. Failing Bluetooth, slow responsiveness, terrible battery life and overall lack of performance have forced me to sideline it tomorrow. Its 800gms that I just don't need to be lugging around.
Tomorrow is going to be even more busy. Early keynotes and a full day of sessions means that there won't be much time for high quality blogging. If the Samsung device launches though you can be sure there'll be a report. Maybe even a live blog!