The Q1 Ultra has been my main mobile device since I switched from the Raon Digital Everun some months ago. It has been a near-perfect solution for me and having the SSD, HSDPA mods and optimised Windows XP solution has elevated it above all the other UMPCs I've owned or tested. It's even convinced me that a 7" Windows-based ultra mobile PC is more suited to my business needs than the 4.8" Carrypad device I wanted before. That's a very significant change in my requirement that I've already started to write an article about because it means that i'm no longer looking for a MID as my single Ultra Mobile computing device. I'll try and finish that article this weekend.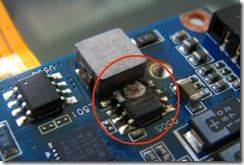 But…the Q1 Ultra is dead now (RIP, friend) due to an accident with my charging solution last Friday. The overheated MP3400 charger appears to have shorted and killed the battery charging circuitry in my Q1 so now the Q1 only works on mains power. The Q1 Ultra charging circuit appears to be beyond repair (see image.) so now I'm in the position of having to choose a new UMPC. Here's what I'm looking for…
My requirements:
7" 1024×600 soft-touch, high brightness.
4-hour on-line battery life. That's ON-LINE, not marketing figures!!
Weight: 900gm or less.
OS: Windows XP (In every case I've seen, XP has been faster and more productive for me than Vista.)
Keyboard: Split, slider or clamshell considered.  Slate with split keyboard preferred as it matches my mobile needs. Keyboard can be added at any time although I realise that 'lapping' is a problem with this setup.
Price: 1000 Euro.
Nice to have
SSD – 8Gb (No data storage required)
HSDPA
Usage scenarios
Bed, Sofa, garden
Tabletop
Bathroom (there's nothing like listening to an episode of TWIT while soaking in the bath!)
Car (Video for passengers, occasional Navigation)
Mostly consumption of web content including video.
Some forum, IM and email work
Occasional (when out on business) keyboard work for blog posts or notes.
Photo storage and editing via SD card.
Photo transfer from phone via BT to home network.
The device needs to be able to perform efficiently doing most Windows-based tasks
No office suite requirement
Purchase options
Gigabyte M704.  Not quite 4 hours battery life but still an option.
New Q1 Ultra. Premium+XP is tempting for basic video work but it's damn expensive.
Other options
Wait for a new 7" device and use SC3 + Everun in the meantime. SC3 is not so good for lap-based work though.
Wait for new device and use the Medion Akoya.
Upgrade Kohjinsha SC3 with extended battery and Windows XP. (currently not available. Will take too much time to set-up.)
Clevo TN70M Silverthorne-based mini notebook. Not currently available
ASUS 901 with Windows XP – No touchscreen. I would miss it. 1.1KG is also a bit too heavy for one-handed use.
Gigabyte M912 with Windows XP – Too heavy. Not quite 4 hours battery life. Not available yet.
Reduce my requirements? Haha!
I was going to switch to the SC3 for the time being but some time with it at the weekend reminded me how battery life is so important. Performance isn't up to my requirements either. The form factor is great (apart from lapping) but without that battery life, I can't rely on it. I switched over to the Wibrain for a few hours after that and then found it getting warmer than I like to have in two hands. The main problem though is that it can't handle table-top operations. 7" is entry-point for that. Basically, the Q1 Ultra is the only choice for me at the moment so right now, i'm looking at to see if I can get the cheap Q1 Ultra C from Hong Kong.  Psychologically, it will be difficult to spend money on the same device but it says a lot about a computer when, after 1.5 years, the best option is to get the same one! For many, the device is far from perfect. For me, it's really hitting the mark. At least i'll have a lot of spares if I buy a second one!
Oh the frustration of choosing a new device! Has anyone got any ideas for me? Did I miss something?