130+ comments seems to indicate a serious amount of interest in the Raon Digital Everun Note that we've been talking about over the last few days. There are concerns about the battery life and the credibility of the CrystalMark tests and slight disappointment that it doesn't have a swivel screen but on the whole, people seem to be very interested. I'm guessing a lot of orders for the SC3 just went on hold until independent info becomes available and its probably because of the thought that there might be a ultra mobile PC on the horizon that satisfies even the most demanding of road warriors. (more after the pic…)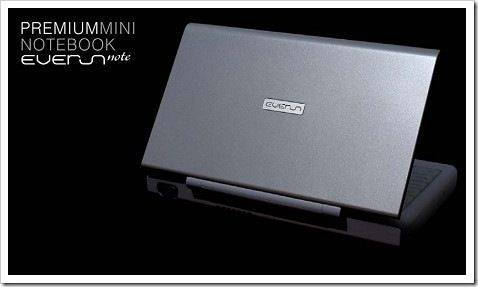 The thing that interests me the most is not that the Everun Note is powerful, its this idea of a flexible CPU. As long as any potential heat build-up doesn't risk damaging the device (or the owner!) there's no reason why this multi-core setup won't work perfectly for both mobile and desktop scenarios. When mobile, one can use a single core dialed down to 30-60% of the normal clockrate. The performance will be fine for online work. When the user is at a desk they can then plug in the mains or the external battery pack and work as if the device was a notebook with 2 cores humming away.
The 7" design is probably a bit too small for most people to use as a desktop but what if it docked? What if you could dock into a PCI-Express enabled station with external GPU where your 22" monitor and keyboard were already connected? I'm a huge huge fan of this dock-and-go setup and with CPU's that allow for a wide range of performance steps, this is more possible than ever. It might not please the desktop and notebook manufacturers though so don't expect Dell to be doing it. Someone like Raon Digital though, who have no netbook sales to hurt, could make this possible.
If you don't like the modular approach, how about an 8.9" version of the Everun Note? No, I'm not scoping for Raon I'm just thinking aloud. An 8.9" 1280×768, dual-battery device with slick design and quality keyboard. This could be a new category of do-it-all devices and with designs like we're seeing in the netbook sector, I think it could be the only device that most people will ever need. Prices wont hit the levels of the netbooks and sales numbers may not be as high but this could be a really hot niche. (No pun intended!)
What do you think? Would an 8.9" Everun Note with a 5-hour battery suit you? Or do you prefer the 7" variant for more mobility?