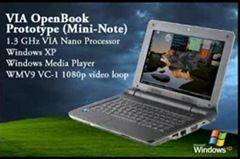 It takes some courage for a small company like VIA to go head to head with Intel so you have to hand it to VIA for putting this video out. Apart from the fighting-talk in the first 30 seconds, it shows the 1.3Ghz Nano (I have this confirmed) against the 1.6Ghz Intel Atom (Diamondville.) in a 1080p HD video test. I recognized the video being used (Try it – Robotica) and checked it out on my Akoya/Wind. Sure enough, it doesn't play perfectly. Not surprising as it's about 9Mbps of 1440×1080 video.
If the Nano is doing this in CPU-alone then I'm really impressed because the 1.3Ghz Nano is perfect for 7" UMPCs.
Here's the video. Meet you all outside for the fight later :-)
More
info on the Nano range and performance here.
Information on the
VIA Openbook, the reference design that the Cloudbook Max is based on
, is
available here
.