When I wrote about Opera 9.5 Mobile a short while back I highlighted how it was a great browser with no hardware to run it on. What I said was that the processing power and screen size wasn't enough for the software. The user interface was good but in order for it to be taken seriously as a crossover mobile/desktop, entertainment/productivity browser, it needed better hardware so when we heard about the new Archos devices recently and their Cortex ARM general purpose processors we knew there was a chance for some serious challenges to the Intel-based MIDs. The Archos devices have a rich, enjoyable touch user interfaces, very good video performance (see video below) and a suite of content and application accessory offerings that can be bolted on to improve the package further. Add the possibility of getting a 3G-enabled version and you got the makings of what could be one of the best MIDs yet. [More after the pic…]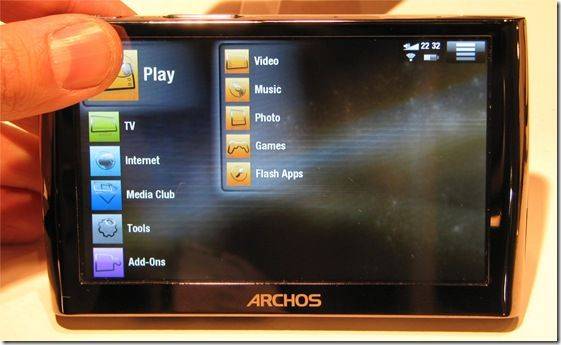 At IBC in Amsterdam yesterday, I had the change to give the new Archos 5 a little test courtesy of Opera who were showing their product suite and using the Archos 5 as a demonstrator. I had no intention of testing out the video performance so while I was there, I played exclusively with the browser. You'll be pleased to hear that its much, much faster than the one on the older 605 but what's not clear is whether the rendering engine is using the new Opera 9.5 SDK. [Update. The browser is based on the 9.0 SDK] The browser didn't have the smooth zoom, momentum and finger-friendly features of the Opera 9.5 Beta but that might have been because Archos have their own interface. With the 4.8" screen though, there's rarely any need to zoom in though so I guess its not a problem. Rendering speed was comparable with the Gigabyte M528 (maybe a little slower) but in the important sub 10-second range. As usual, Archos have their tabs feature, nice touch keyboard and good bookmarks and history system.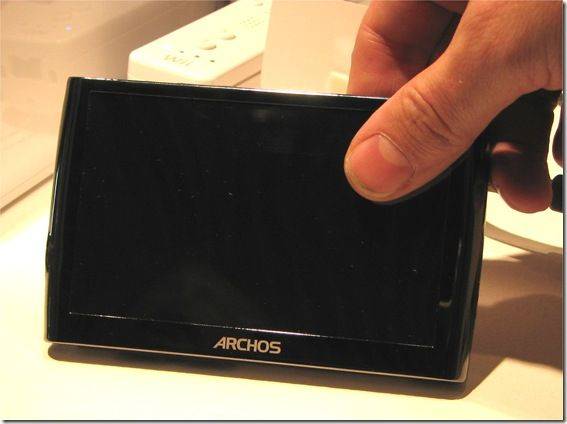 A 3G-enabled version of the Archos 5 I saw today would probably hit the hot-spot better than any of the Intel MIDs I've seen to date. Its stylish, small, has a really great, satisfying and responsive UI, a reliable video engine, a speedy browser, with mature drivers, a good accessory range and expandability that takes it up to PVR standards with remote TV capability. It still has its roots in entertainment though so don't expect office suites, Bluetooth capability or a lot of multitasking but that probably isn't what most people want. As an upgrade to an iPod touch I find it a compelling choice and for anyone that has been waiting around for devices like the BenQ MID or a faster Nokia N800, this is probably a better choice.
Here's a video of the device in use. I didnt do my usual spoken overview as this is simply a video to show you browsing speeds.
For mobile Internet users, the 3G is absolutely necessary and the cost and battery life of these features will be the big issues to consider. Estimates on the price of the 3G model vary between 400 and 500 Euro which isn't bad. The Gigabyte M528 is 575 Euros and that brings you the Bluetooth and keyboard but only 4GB of storage (plus Micro SD slot.)
Its almost impossible to say whether the Archos 5g will be good enough for you pro-mobility users at this stage. The 9-second penalty that I talked about a year ago has definitely been reduced to insignificant amounts but if there are the same compatibility issues with the browser as there were on the previous Archos browser (as found on the 605 and 705) then it won't give pro-mobility users enough confidence to leave the laptop at home until Archos provide an upgrade. What I can say is that the hardware, processing platform and UI seem perfect for MIDs though. If the Cortex/Opera combo works out, it gives OEMs a second choice and allows smartphone manufacturers to extend their products into the MID arena. Intel are now playing with Texas Instruments, Qualcomm, 3D Labs, Nvidia and other ARM licensees in the MID game.
I'll try and get the question about SDK answered because if its version 9.5, you can guarantee more accuracy and speed with complex pages. [Latest: I have just had confirmation from Opera that it is built on the 9.0 SDK which is a little disappointing. They are obviously trying to encourage Archos to upgrade to 9.5 but we'll try and get word on this direct from Archos] I'll also try and get hold of a 3G version as soon as I can for testing as its a product that should be considered if you're looking at MIDs. If the 3G version comes in at under 500 Euro then it's going to be a good value option.
Also worth mentioning here is that Opera have announced the 9.6 SDK which supports some cool new stuff including the ability to use OpenGL accelerated zoom and pan and, here's something unique, OBML support which allows the browser to display Opera compressed content just as is used on the Opera Mini browser. This is superb for travellers that want to cut their roaming data costs because it saves up to 90% of bandwidth and is fast in low-bandwidth scenarios. I'm looking forward to seeing this on a MID as it will be a great feature to have available.