How long, just how long, did we have to wait for this? It feels like years! The first Atom-based MID in the western world finally launches. I've been trying to keep in contact with Benq about this since we spoke in depth about it at IDF but where does the information always come from in the end? A UMPCPortal reader of course! We don't need no stinkin PR people ;-)
So what have we got? Via an article at Toms Hardware Italy (translation) we've tracked down the product page. It looks like its available NOW! More details after the pic…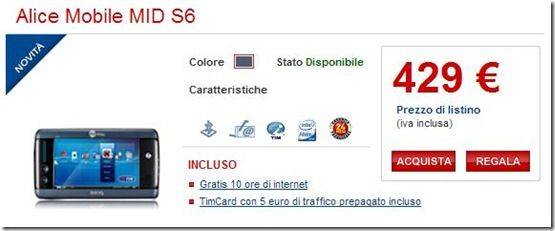 If you read the Toms Hardware article translation you'll get the impression that the price is only with a 30 Euro per month data contract. I've been looking at the TIM website with an Italian-speaking contact (thanks 'Dark Free Soul'!) and it looks like that's not true. The price is an unsubsidised outright purchase price. Its not clear if its provider locked but seeing as the OS is 'open', I wouldn't expect it.
Processor: Atom UL11L @ 800Mhz
RAM: 512 MB
Hard disk: 2 GB SSD
Screen: 4.8″ 800×480 262K colour TFT Touchscreen
OS:Linux Midinux
Connectivity: HSDPA 7.2 – Wi-Fi – Bluetooth 2.0
Dimensions: 159x89x22 mm.
Weight: 0.330 Kg.
In/Out: 1 Mini USB
Add On: Micro SD Card – Office Reader – G Sensor
429 Euro for a 3G-enabled ultra mobile device like this really isn't bad at all and very encouraging. I've already estimated the Archos 5G price to be between 400 and 500 Euro so its obviously going to go head-to-head with that product if they ever meet in the same market. I'm sure they will before Christmas and you can almost guarantee is will be 399 Euro at that point!!
I really enjoyed this device at IDF (video and article here.) but its a lot bigger than the Archos 5G and has much less storage (although it has an SDHC card slot that the Archos 5 doesn't.) You get the full Internet a full office suite and the possibility to add 3rd party software for free but you have a bigger device. If I was given the choice today, I'd go for the S6 over the Archos 5G purely because of its better productivity capabilities.
More information in the S6 including links to other articles here.

Click for info.