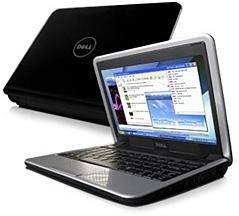 A lot of info about Dell's entry into the netbook market has been uncovered in the last day or two. The Inspiron 910 Mini 9 has gone official a day before Gizmodo's predicted date. Now we have all the details about the new netbook, and reviews are already up on the nets. Lets have a look, shall we?
Info directly from Dell's site shows us three model tiers. All models share an 8.9" 1024×600 display and a 1.6GHz Atom N270 CPU and the usual bevy of ports (full specs can be found in the Portal), but they differentiate in RAM, OS, webcam and SSD size. The least in terms of specs and price starts at $349 and comes equipped with 512MB of RAM, no camera, 4GB SSD, and Ubuntu, apparently with a custom Dell interface. The next model up will run you $399 and has 512MB of RAM, 0.3MP webcam, 8GB SSD, and Windows XP Home. The most costly of the three is $449 and has 1GB of RAM, 16GB SSD, 0.3MP webcam, and is also running Windows XP. Keep in mind, these are just pre-configured machines. You can mix and match the different specs (RAM/OS/webcam/SSD) and get exactly what you want. Oh and don't forget that you can pay an extra $25 for a white model instead of a black one, if you feel so inclined. Buyer beware, none of the models come with Bluetooth, you need to add that yourself (+$20) when you customize the machine.
Strangely enough, Dell is offering 'Instant Savings' of $40 and $55 on the middle and top end models respectively; effectively negating any price break for taking the Ubuntu OS. Anyone care to theorize why they would want to get XP machines out the door rather than Ubuntu?