Continuing my thoughts on smartphones today, I wanted to highlight the Nokia N96 that I checked out in Amsterdam yesterday. Now there's a phone that, for the first time, has me thinking about upgrading from the N82. Its got a crappy browser, J2ME apps are slow to start up and its got a DVB-H receiver that's as good as useless in most places due to the lack of any service but it doesn't matter because it does all the stuff that MIDs don't do. Its got an amazing camera and software that, on the N82, has allowed me to capture, tag and share stuff that would have been missed or forgotten with a dedicated camera. It's got a maps and navigation application that I find second-to-none in the smartphone world and its got a much easier to read screen and better keyboard than on the N82. Here's the best feature though; It also has a fast USB subsystem which means you can really start to use it as a mass storage device. 16GB on-board and SDHC support means that 32GB is possible today; Perfect for plugging/pairing with a MID and using as your only file-store. Better still, use a Windows XP-based ultra mobile PC and the Nokia PC Suite for even more functionality. I also like how Nokia are moving OVI, maps, email and chat forward and am really enjoying the Nokia experience.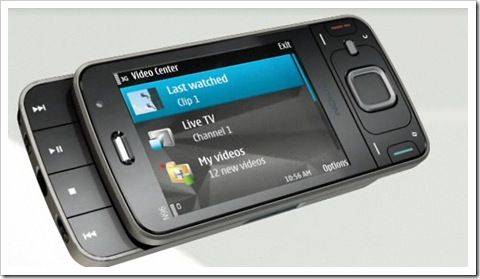 Apparently the browser is slightly better than on the N82 but I doubt it's anything too impressive. Even so, when you've got a MID or ultra mobile PC with you as I often do, you tend to reach for that first when it comes to serious Internet activities because at some point, even the best smartphones get annoyingly slow and cumbersome for long-duration Internet work.
If other manufacturers don't get their cameras, video, storage and mapping up to the standard of Nokia's N96 soon, I can see myself buying one of them. I'll just wait for the first Android-based phones first before I make my decision though!