To help you edge yourself into another working week, here are a few news items from the weekend.
Fujitsu P1630 appearing at FCC. It looks like Fujitsu might introduce a Montevina-based, Dual-Core 1.4Ghz version of the well-respected P1620/P1610. Its getting a new chipset too which includes the GMA X4500 GPU, a much more powerful option than the previous GMA950 which includes better video playback quality. It also means you can play those business-related shoot-em-ups and flick through cover-flow that much faster in your meetings! No words on price or availability on this, the most powerful 8.9″ convertible seen yet. I've added a P1630 product page.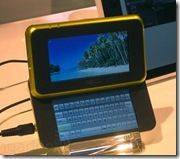 Toshiba SD Multi. An interesting dual-screen portable device designed for editing content on SD cards. Which is a strange focus as the device is also said to be able to surf the internet which means its at least Wifi-capable. No word on OS which gives us no clues about processor which gives us no clues as to whether this is at the high or low-end of the mobile internet scale. At a target price of $300 though, I suspect its not the FIE.
The Techcrunch Tablet. I respect anyone that publicly goes for a big project like this… [article continues]
..but I don't hold out much hope for it becoming a real product. Apart from the off-putting image of a desk that looks like someone tipped a component draw over a Uren V1, it seems to be a hack that's going off on a dream course towards failure. The biggest problem I see is that Mike Arrington, the project lead, thinks that "If all you are doing is running Firefox and Skype, you don't need a lot of hardware horsepower, which will keep the cost way down." That is way, way off the mark. If your primary focus is Internet, you'll be looking at nothing less than a Firefox/Mozilla core and you'll want to achieve the FIE which means page loads in under ten seconds. In addition to that, you have to consider plugins. The benchmark for plugins is YouTube on Flash which requires Ghz-class X86 CPUs. Unless you're looking at Multi-core ARM11 or Cortex A8 which is going to push up your s/w dev costs, you need to be looking at Intel Atom which is certainly not cheap enough to bring you a sub $200 device. Effectively, you're making a MID with a 10″ screen which is not going to come in at under 800gm (1.75lb) which leads to the one-handed problem (no keyboard means having to use one hand to peck at an on-screen-keyboard or having to provide rotation in order to enable an on-screen portrait-format thumbing experience. To do that you need the width of a 1280X768 LED-backlit screen and some good keyboard software. Expensive. The list of issues goes on and on and include the ever hot topic of hardware keyboards.) Mike, have a word with ex Pepper Pad founder and now Microsoft employee, Len Kawell for an example of how difficult it is to make a web pad.  Maybe the Pandora project can help too. I love the concept but cant help thinking that Techcrunch will fail on this one. What do you think, UMPCPortal readers?
Netbook news. Pioneer Dreambook Light, a clutch of VIA devices, the Zen-ID MSI WInd Clone and probably a hundred others. I'll continue to provide a skeleton coverage of the cheap mini notebooks but for detailed coverage, I really recommend going over to Liliputing. If something pro-mo focused crops up, i'll make sure I cover it here and we'll do our best to keep the product database up to date.
T-Mobile Android device. More images reveal a strange offset thumbing keyboard. Yet to be confirmed are specs on the screen res and CPU. I heard it's going to be ARM11-based which, as we know from the Nokia N810, may not bring the best of the Internet to your hands. At least we'll be able to see how accurate the browser is and then get a benchmark for a new generation of Mozilla-on-ARM browsing.
Looking forward into the week, a highlight for me is the possibility that I might see a shipment notice for the Raon Digital Everun Note. A high-end, ultra mobile focused mini mini notebook that a lot of people are waiting for news about. Apart from that, there will be an IDF round-up and, if there's a let-up in the news flow, a focused effort on getting the third edition of the Ultra Mobile PC Buyers Guide finished.