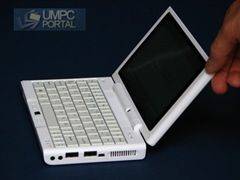 You might have heard about the Everun Note. Its currently the most powerful sub-800gm laptop around due to its  dual-core 1.2Ghz AMD Turion X2 and an ATI R690 graphics solution. When it's running at full steam, it's impressive!
Full review of the D30H available here.
Raon have now released two new versions that sit either side of the original and both include an SSD for improved speed, noise and ruggedness characteristics. We've had both of them here for a week or so now so here's a rundown of the features and some notes that we want to highlight.
S16S. Entry-level UMPC.
The first thing, and probably most important thing to highlight about the S16S is its price. We're seeing it offered, without OS, for under 500 Euro which is a lot less than any sub-kg PCs we know about. For that price though, you don't get the Turion processor. You get the AMD Sempron 1Ghz processor. You'll still have the R690E GPU and, strangely enough, a faster system under XP using battery power because whereas the Turion version clocks down to 800Mhz under battery, this one stays at 1Ghz all the time. The trade-off here is that the Sempron isn't the most power-efficient CPU around and you'll be sacrificing quite a bit of battery life. 2-hrs online is about tops for this device but if you're using the device between docked or powered scenarios, or if you buy a spare battery, you'll probably be happy enough.
The standard Ubuntu Linux build we tested was working apart from the Wifi and standby/hibernation. There's a simple 3rd-party fix available for the WiFi so that's not a real worry but the issues with standby and hibernation are more serious. They simply don't work. Hibernation and shutdown hang every time and using standby means you lose touchscreen and mouse!  We've tried a recent release of Ubuntu-ultra mobile PC but again, the standby and hibernation issues were too serious to ignore. There are reports of some owners having fixed this though and if that's true then the S16S makes sense as an entry-level ultra mobile PC Note: We've been doing some work with Ubuntu and Screenlets on the S16S which is working out well.
With XP on the device, everything was hunky-dory and working as expected. The SSD read speed is up to 36MB/s which is slightly above what you'll see on the 1.8″ drives and it shows in the applications startup speeds. Opening Firefox under XP with the Google News start page is done in well under 5 seconds. 3 seconds was common on the second startup which is as fast as a desktop. XP Bootup is fairly quick too. 45 seconds or below with our fresh build. The SSD doesn't have a fantastic write speed though. 12MB/s maximum is noticeable if you're moving files about but we haven't noticed it having any effect in real-world usage. This SSD really does seem to be OK for most uses.
The build quality on the S16S seemed to be better than the D30H we tested before although that was a production sample and this is obviously a final build. The touch layer, screen hinge and casing seems tighter overall but only time will tell on this aspect.
Everything else about the device is the same as the D30H we tested (the D60H is the one you find most often in retail now and it's exactly the same apart from a having a 60GB Samsung drive instead of the 30GB Fujitsu drive we had) so if you're looking for a mini-PC for a Linux project, an emergency PC for keeping in the car or briefcase, a coffee-table ultra mobile PC or fancy a bit of hot-desk docking action, the S16S is a very good value choice.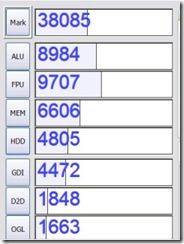 D24S. Best of both worlds.
Obviously, if you combine the high-end processor with the high-end SSD, you get the high-end Everun Note! Its not difficult to imagine the results either. Faster boot, Fast application startup, quieter operation and more ruggedness. The SSD is partitioned into two with the OS residing on an 8GB partition and the other 16Gb being available for data. Both partitions seem to be the same type of SSD returning up to 37MB/s read and up to 12Mb/s write.
CrystalMark scores absolutely shine under mains power with a result of over 38000. While that might not mean much to many people, let me tell you that the CPU scores (which come in very handy for displaying complex web pages, multi-tasking, complex spreadsheets and gaming) are way more than we usually see for UMPCs. The memory and 3D scores also look good. Only the disk speeds return average results so there's some room for improvement there. Compare that 38K to the 11.5K of the original Everun and the 20-25K of Atom-based netbooks!
Battery life is about 3hrs with WiFi on although don't forget that the CPU is locked down to 800Mhz to preserve battery life when not connected to the mains.
As for pricing, you're looking at 790 Euros inclusive of tax and Windows XP. It's tending towards the expensive but its cheaper than a lot of other solutions and its certainly one of the most powerful.
Pages: 1 2