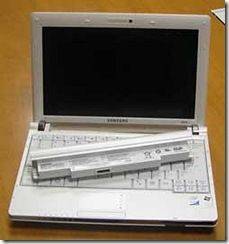 I apologise for my possibly over-extended coverage of the Samsung NC10 battery life. This will be the last post on the matter I promise.
As we've seen in previous Laptop Magazine tests and my brief hands-on last Saturday, the NC10 turns in some impressive battery drain figures.
Laptop Magazine have taken the testing a step further and pushed the NC10 to the absolute limit by dropping in an SSD and disabling the BT radio on their web browsing tests. The result…nearly 8 hours of surfing at minimum brightness.
While this may not be the best of real-life tests, it shows that the underpinnings are efficient and that's exactly what you need on a mobile device.
The NC10 shouldn't just be crowned the best netbook out there, it should be crowned the best consumer laptop out there. 10" and an Atom 1.6Ghz is good enough for 9/10 consumers so expect it to eat well into 12 and even 15.4" low-end laptop sales.
All the NC10 details and links to reports in the NC10 reference page.