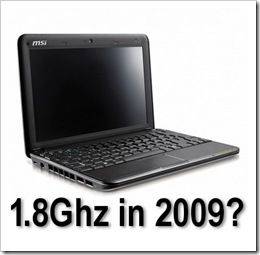 Ben reported on the new MSI netbooks recently [Not your standard cookie-cutter specs] and highlighted that MSI will use the Z530 and Poulsbo chipset, the Menlow platform, originally designed for MIDs, and not the existing netbook platform. They aren't the first netbook devices we've heard about that will use this platform as the Dell Mini 12 is already out there using it but it could be that we see a lot more of these as it offers an interesting marketing possibility at a time when netbook manufacturers are trying to make their products stand out from the crowd.
LaptopMag recently interviewed MSI and asked about their decision to use the Menlow platform. The answer gives us some clues.
Why would MSI use Menlow? Part of the answer comes from MSI in the LaptopMag interview:
"Now we are going to come out with the U110 and the U115. These are similar to the past systems in size and will look like the original Wind but they utilize the Intel Atom "Menlow inch processor the Atom Z530.

The U110 and the U115 will be out in late January.  The biggest difference between these two models is their battery life. With the U110, we will deliver 8 hours of computing time; and 10 hours with the U115. Both will use a 6-cell battery."
So it looks like the 1.6Ghz Menlow platform is attractive because of battery life. Not surprising as it offers a lower idle power and lower in-use power. Battery life is a very important differentiator. Menlow's hardware video decoding (1080p using H.264) can be used to differentiate too but here's something that is more interesting and you probably won't hear any product manager talk about it in these terms. The Menlow platform goes up to 1.8Ghz and CPU speed is about the best differentiator a marketing group could hope for. In netbook quantities, I wouldn't expect any noticeable difference in the price either. $20 at the till maybe. When your average netbook customer is standing with a Saturday sales rep. in the local electronics store and has a choice between a a Samsung NC10 at 1.6Ghz and an MSI Wind at 1.8ghz, for the same price, which one is the customer more likely to go for?
If this process works, if sales figures indicate a preference for 1.8Ghz, expect either a clock boost on the N270 CPU (which is likely of course) or, for the higher-end of the netbook market and the ultra portable notebook market, a lot more action with Menlow in 2009. From where we are sitting, it looks like Menlow could eat into even more of the traditional laptop market but if it's a net gain for Intel, they won't complain!
Check out the interesting interview and watch out for comments about Linux, touchscreens and a temporary HDD set-up.