Another article has been posted about how Qualcomm's Snapdragon platform is ideal for low cost, long battery life, small form factor notebook PCs. We heard about this a few weeks ago but Brooke Crothers of CNet visited Qualcomm to hear more detail about what's going on. The article gives me a chance to dive into the details and give some thought about what's happening here in both technology and market terms. Is it significant or not?
First of all a little background about Qualcomm's Snapdragon. Its a small-form-factor, mobile computing platform (think of it as a ready-to-use computer on a tiny motherboard a bit like the image you see below-right.) that includes a CPU core which is based on a licensed ARMv7 architecture. ARMV7 is the architecture used in the ARM A8 Cortex CPU design that you can now find in the new Archos devices, the Open Pandora and BeagleBoard (image below-right) projects. Snapdragon has been a four year, $350 million project. It's not clear how many snapdragon versions there are but the one that CNet are talking about is the new dual-core QSD8672 capable of clock speeds up to 1.5Ghz. The platform also includes the following features: (Details from Qualcomm.)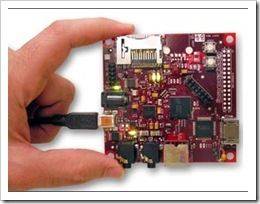 WWAN, Wi-Fi and Bluetooth connectivity
Seventh-generation gpsOne® engine for Standalone-GPS and Assisted-GPS modes, as well as gpsOneXTRATM Assistance 
High definition video decode (720P)
3D graphics with up to 22M triangles/sec and 133M 3D pixels/sec
High resolution XGA display support
12-megapixel camera
Support for multiple video codecs
Audio codecs: (AAC+, eAAC+, AMR, FR, EFR, HR, WB-AMR, G.729a, G.711 , AAC stereo encode)
Support for Broadcast TV (MediaFLOTM , DVB-H and ISDB-T)
Fully tested, highly-integrated solution including baseband, software, RF, PMIC, Bluetooth, Broadcast & Wi-Fi
Looking at the article from CNet, these tech specs might be referring to a previous Snapdragon platform because the CNet article mentions 1080p video and an ATI graphics core.
As JKKMobile pointed out , one of the important things to note about this platform is its inability to run Windows desktop software meaning that it's restricted to mainly Linux-based distributions or WindowsCE-based operating systems but lets take a look at a few other aspects of the platform first.
Performance
According to some references on the Internet that I've been able to cross-check, raw single-core CPU performance of the platform, an important factor in rendering browser-based pages and applications, is in the order of 2000 Dhrystone MIPS at 1Ghz. Obviously a dual-core version, clocked at 1.5Ghz means we're in the region of 3000-5000 MIPS which means, if you take a look around for Dhrystone tests on the Atom N270 used in netbooks, its right in the same ballpark. The N270 appears to return about 4000 Dhrystone MIPS. These figures don't indicate anything about the real-world performance but they do tell us that, given good memory and storage performance the results are good enough to run a basic desktop OS.
Power Efficiency
This is something I think we should be careful to remain realistic about. While ARM cores are extremely efficient and idle at extremely low levels, we're at the point where CPU power usage on Atom and ARM-architecture CPUs aren't a world apart from each other. When taken as a ratio of total system power drain, including screen, radios, DC-DC components and storage, the CPU is well under 50% of the equation. In 10" screen devices, it's even less. 20% maybe. The major power advantage here is gained through on-board integration. Packing processing cores, communications silicon and memory tightly together, unifying the power-saving methodology across the board and writing efficient firmware is they key. Qualcomm have a lot of experience in that and I expect to see well-designed Snapdragon-based netbooks in 2009 to be running in the order of 5W  about half the power that an N270-based notebook will use. Due to the high level of integration, the boards will be smaller too. The solution gives designers the option to make the devices smaller or run with longer battery power. With more space for batteries, you could even see devices where thin Li-Poly take up most of the underside of the netbook and offer capacities that will allow you to leave your netbook on all day. An always-on netbook is a seriously interesting prospect!
Cost
It's difficult to do a complete estimate on this but experience tells me that in quantities, the highly integrated Snapdragon platforms would be significantly cheaper than a full Atom-based motherboard build-out.
Markets
This could go two ways. Initially I would expect to see manufacturers use the new Snapdragon platform to make cheaper Linux-based netbooks that will go into some of the emerging markets in India and China. These markets are less sensitive to desktop OS types due to the shorter history of XP and Vista. We will see some low-cost and long-battery life versions coming to 'our' markets (I speak to 80% of readers when I say that; Americas, Europe, Japan) but without XP, the devices won't get the traction and channels that the Intel-based devices will. There's one thing that could change this though and I know for sure that people are working on this. High-quality consumer focused, easy-to-use, reliable, branded, thin operating systems. Operating systems that completely hide their roots and offer a slick UI, rich applications suite, content and branding. So far we haven't seen anything but there are a few projects and companies out there that are working on this. The Open Handset Alliance work has potential. Moblin too. They will need a good company to 'finish' the product though and the branding will need to come from a big name in order to give it traction. It will need that all-important app-store too. The one OS that could really change the game though is WM7. I don't really expect this to happen but if it is an OS that offers a large-screen experience and the opportunity to work with native document formats and in both a 'business' and 'consumer' mode, there's no reason why it can't be used as a netbook OS.
Back to that article now. (Sorry, I got carried away. I actually wanted to write a quick re-blog article!) CNet mentions a few companies working on solutions:
Companies including Acer, Asus, and Toshiba are planning devices based on Snapdragon, according to Qualcomm. Acer, for example, will initially introduce Qualcomm's Gobi 3G modem into its devices, then gravitate to products based on Snapdragon.
Of course we need to take that with a pinch of salt considering the fact that there are already supposed to be 15 ultra mobile devices out there running on Snapdragon.