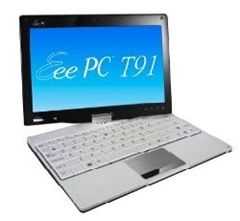 Update: Building a list of the specs and news references in the product database page.

An 8.9″ 2.1lb PC it's not exactly the type of thing I'd like to have on my car dashboard but it seems that ASUS might be thinking that way. With GPS, touchscreen and an FM transmitter it looks like they're going for the navigation option.
LaptopMag have a short article with information from the ASUS press event that took place at CES a short while ago.
I have a similar combination of convertible with GPS on my SC3 and I can honestly say that I've never ever thought about using it as a PND. There are far better solutions out there. Maybe ASUS will focus on the tablet element of this one though. At 1KG, it will work well for some.
Liliputing have some more pics and are saying that the device is due for launch in the 3-6months timeframe.
Related ASUS convertible item: The T83 from CeBIT in 2007 that never saw the light of day.
Update: Looks like there's a 10″ version of this. The T101H