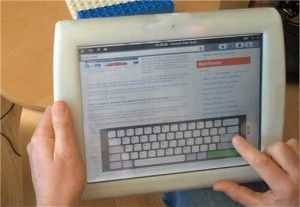 I can't really let the day finish without mentioning the Techcrunch Crunchpad. Although it's a relatively  big and non-mobile tablet, there's a few things to mention.
Mike Arrington's original focus for the design was web activities so it's not suprising he's gone for a PC-based solution. Web-based activities are getting to be some of the most CPU-intensive daily tasks that people do so a strong CPU is a must-have. The VIA Nano is, clock-for-clock, likely to be much more powerful than an Atom so a  good choice for processing power but with it's relatively high thermal power rating, it's going to need some cooling. That means fans and airflow space in the chassis. Not a good sign for bedtime browsers! Having said that, the low-end of the VIA Nano range at 1Ghz might be just right and I'm sure there's scope for lowering it further if necessary. This would be a nice win for VIA if they can pull it off.
Why didn't Techcrunch go for an ARM-based solution? It would allow for a much smaller and longer-battery life design. Maybe it's because the high-end of ARM isn't quite up to performing at the sort of levels that consumers expect? 5-10 seconds per web page load is probably just out of the reach of one of the latest ARM-based platforms.
The battery life is going to be a problem too. With a 4-cell, 2200mah-per-cell (a high-end, heavy-sounding  2p2s 7.2v) battery pack he'll be looking at the  4-hour range with that huge screen. The backlighting budget will probably run to 5W and I'm sure that when you've added the relatively high-end CPU in and connected it to a Wifi hotspot, you'll be draining 10-12 watts average. Possibly more when you've got flash content taking up CPU cycles. As many others have commented today, it might be better to settle with a 1024×600 8.9″ screen and maybe reduce the battery capacity to  save weight. It wouldn't be perfect in portrait mode but landscape mode would be fine and you'd probably save 2W in backlighting and 300gm in weight. Overall though, you would probably lose battery life. It's a tough balancing act.
Aesthetics play an important role but as we can all remember from 'Origami' in 2006, so do keyboards. I could write for hours about that but I'll just say that if you need sales numbers, you'll probably want to think carefully about the form factor and include,somehow, a  physical keyboard. The T91 or T101H from ASUS might bite Techcrunch in the bum unless they can get excelent on-screen keyboard software and some good early reviews about it.
All in all I think Techcrunch have set themselves tough targets for the device. While not impossible, I suspect it will be more expensive than planned, will have so-so battery life and could be a little too heavy for most people. They'll need to convince an investor that they can sell hundreds and hundreds of thousands in order to hit the parts budget and that convertible netbooks or MIDs won't be a threat.
Fingers crossed for Techcrunch though. I'm enjoying watching the project, am hoping it tends towards a 9″ device and I and wish Techcrunch and VIA every success with it.