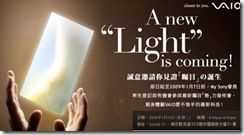 Our podcast partner, Sascha, from EeePCNews.de (which has just relaunched as netbooknews.de) reports that he's secured some new info on the Sony UMPC.
Wie ich schon auf Eeepcnews.de berichtete, wird der Sony Vaio P eine Atom Z520 CPU (1,33 Ghz) aufweisen, 2GB RAM, HDD und optional SSD, GPS, UMTS und das alles zu einem Preis, der sich wohl im Bereich um die 700 Euro einpendeln duerfte.
The Sony Vaio P will run on an Atom Z250 (1.33 as we've tested on the WiBrain i1 and Kohjinsha SC3) with 2GB RAM, an HDD and optional SSD, GPS and UMTS with a price around the 700 Euro (970 dollars) mark reports Sascha. The 2GB RAM hints at Vista (or 'Windows 7 ready'.)   Apparently, the Asian source indicated that the image, now confirmed as photoshopped, is actually very close to the real-deal.
In addition to the above, a new teaser has appeared in Japan Hong Kong. With these teasers appearing at different times in different places and with strange placeholders on Sony websites, you have to hope that the quality of the product is better than the marketing program which seems somewhat dis-jointed from a web perspective. Even the launch dates seem to vary between the 7th and 9th of Jan. The first CES press events are on the 6th Jan with the Sony 'invitation only' Press event planned for 4:15pm on Press day, the 7th in Las Vegas.