This video, taken at the Viliv launch event in Korea, shows some nice detail about the cube user interface on the Viliv S5.
It's an interesting way to tackle the problems of using a desktop OS with a finger. Of course, when you get past the UI you're dealing with the same old problems but these sort of layers could make XP more attractive and friendly to MID buyers and yet still give the power users the back-end they require to do productive work.
YouTube user '59hjh' has other videos too. The video playback demo shows KMPlayer dealing with a 16mbps 720p file and outputing it to an HD screen with no problems at all. The browser demo shows, as we've seen before on the Atom-based devices, a top-notch mobile Web experience.
S7 is still on the roadmap
Expect to see the S5 at CES along with two other Atom-based devices. We've been in touch with Yukyung Technologies and they tell us that the S7 will be appearing in working form. The S7 is the very interesting pro-mobile ultra mobile PC we had hands-on with at IDF (see specs and video) and looks like it matches rumoured Sony ultra mobile PC specs.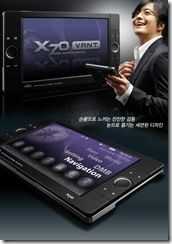 X7 7″ slate on the way
The S5 is derived from the X5 PMP so it makes sense that there will be an Atom-based variant of the X70 tablet-style PMP shown on the right. There'll be a working prototype of it at CES codenamed X70-Atom. For a slate 7″er to be well received in the consumer market it's going to have to have something special so we're looking forward to seeing what it's key features are.
It looks like Yulkyung's ViliV products are going to be ones to watch at CES. The designs and specs look extremely attractive so far and the prices that they talked about at IDF, very competitive. The only thing that remains is to find out about US and EU availability. For what it's worth, I'll certainly be encouraging Yukyung to get these devices out into these areas ASAP.