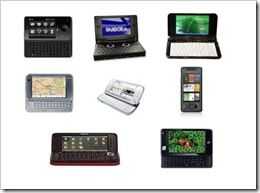 June 27th. Updated. See below.
With the launch of the new version of Tweetdeck yesterday, the Twitter microblogging platform moved another step forward to becoming the de-facto online real-time tracking, trend-searching, url promotion, status update, and 'friending' tool. The user base is already huge, growing quickly and consists of a lot of young and mobile users. As far as a target audience goes, this is the best one yet for a high-end mobile computing device.
Back to Tweetdeck for a minute though because it's that desktop experience that really takes Twitter into a new dimension. While twitter.com, the front-end, offers a simple 140 character posting platform, Tweetdeck (and to a large extent, comparable desktop clients like Twhirl and Spaz) offer a standalone client that wraps the service up with tools ranging from search term tracking to translation and includes in-line URL shortening, direct links to online Twitter-related web services, multi-column views, grouping and more in a very efficient, if large-scale, user interface. It's not only a way to organise your consumption of twitter data but, if you learn how to use it efficiently, it's a productivity suite too. Once you get used to all the features and that productive process, it's very hard to go back to the simple twitter front end. The same problems also occur when you try to go mobile with twitter. The mobile clients aren't powerful enough and don't offer the screen size needed to get the most out of it the twitter ecosystem. In my experience, productivity on the platform drops and you end up back to that 140 character to-and-fro.
With this in mind, I've been thinking about the ideal microblogging device again but this time, rather than imagining what the best device could be like, I took the requirements and tried to map them onto devices that are available (or almost available) today. Desktop clients, productivity and the full web experience was in my mind throughout this process.
I've narrowed the choices down to best-in-class and none of them are cheap (prices and availability are based on European info) but there are certainly a few good ones out there and they can all be used for far more than just microblogging. I've taken devices from the high-end of the smartphone range all the way up to UMPCs. I've put the keyboard very very high on the list of requirements because I believe it leads to the most comfortable, easy-to-learn, screen preserving input mechanism. The main list consists of 3 smartphones, 2 pocketable PCs and 3 handheld PCs.
Image

Operating System

CPU

Weight

Screen Size

Resolution

Notes.




HTC Touch Pro

Windows Mobile 6.1

Qualcomm 7200 (Dual ARM Cores) 528mhz

165gm

2.8in

640×480

Underpowered for full web.
Mobile u-b Clients.
Voice capable

520 Euro




Sony Ericsson Xperia X1

Windows Mobile 6.1

Qualcomm 7200 (Dual ARM Cores) 528mhz

145gm

3in

800×480

Underpowered for full web.
Mobile u-b Clients.
Voice capable

480 Euros




Nokia E90

Symbian Series 60

TI Omap 2420 330mhz

210gm

4in

800×352

Underpowered for full web.
Mobile u-b Clients
Voice capable

550 Euro




Aigo MID (8888W)

Linux (Moblin core)

Intel Atom 800mhz

340gm

4.8in

800×480

Limited OS. Good hacking possibilities (to XP, Adobe AIR)
Fast processor.

Price 650 Euro (450 in France and Italy)




UMID M1 MID

Various Options

Intel Atom  1.1ghz

315gm

4.8in

1024×600

Expected Feb
Full OS for desktop clients.
Fast, full web.
1.3Ghz processor option.

Estimated 700 Euros




Wibrain i1 HSDPA

Various Options

Intel Atom  1.3ghz

500gm

4.8in

1024×600

Expected April

Full OS. Long onlne battery life. Not pocketable.

Price unknown




Fujitsu U2010

Windows Vista Home Premium

Intel Atom  1.6ghz

610gm

5.6in

1280×800

High power CPU.

Windows OS

Price 1200 Euros (Est. with 3G)

Windows XP Home

AMD Turion 64 x2 1.2ghz

742gm

7in

1024×600

Windows OS

High Power CPU and GPU

Price (With 3G) approx 700 Euros
Note: u-b = Microblogging.
The ones that didn't make it to the list:
HTC Touch Pro (Good CPU and screen) Not in the list because it doesn't have a keyboard.
Nokia N810 (Good price) Not in the list because it doesn't include 3G. Social networking aps and cam limited.
OpenPandora (Good Price and CPU) Not in the list because it doesn't have a stable OS build and doesn't have 3G. Still not available.
Palm Pre (Good CPU. Potentially good s/w) Not in the list because of screen size and keyboard and lack of final info.

Months away from launch

Nokia N97 (Good screen, keyboard, storage) Not in the list because it's months away from launch.
Digifriends MID (Good CPU. Modular design.) Not in the list because we don't have final specs, pricing or launch details. Appears to be vaporware.
HTC Shift. (Dual-mode design) Not in the list because it's almost end-of-line and it's not quite hand-hold mobile. Removed due to poor battery life.

Iphone. (Good Software, browser, community) Not in the list  due to keyboard, screen size, multitasking.

Blackberry Bold (Good keyboard hardware and software, platform) Not in the list due to small screen.
Update June 27th 2009.
The following devices should also be considered now. I will write these into a new list.
iPhone 3GS. Powerful processor. Acceptable cam. Fast web. Huge range of apps. Multitasking and screen size issues.
HTC Touch Pro 2
Viliv X70. Very fast full web. On-screen keyboard. Big battery life. 7″ screen
T-Mobile G1
The following devices will be removed from the list
Raon Digital Everun. Stability and battery life issues
Wibrain i1 is now sold under the e-king brand
Click here for an interactive list of all the devices with specifications and links to info and images.
Worth noting is the huge difference in capability if you take a dedicated device rather than a converged one. It's basically to do with pocketability and 24/7 device usage. There isn't a single voice-capable 800×480, high-end CPU device available anywhere as I write this but as smartphones are moving up towards that point and MIDs are moving down towards that point it shouldn't take long before something turns up but for the time being, that's about the best possible list of devices that map into the productive microblogging scene. I have no doubt that there are people out there that value the portability and ubiquity over the capability and that some of you are more than happy in consumption-only mode and that's fine, we all have our own set of requirements. The comments are open below for all your thoughts and I'd love to hear them.
Now for the subjective bit! I have two 'winners' in my mind. For the totally converged solution, the HTC Touch Pro is my favourite. The Xperia has a higher resolution but you would actually have to zoom the text to read it which negates the advantage for me. I've also read a number of side-by-side comparisons and reviews and after reading them, the Touch Pro appeals more than the Xperia. There's very little difference between the two devices though so either would be good choices.
For a dedicated and productive solution, I have the UMID in mind. With the 1.3Ghz Atom processor you'd get desktop-speed Firefox 3/Chrome/Safari action and the ability to use desktop processes and software in your hand. The UMID has 3G and should also be pocketable too.
Overall though, it's the productivity that tips the balance for me. The thought of 315gm of powerful 3G-capable microblogging platform running Tweetdeck and being able to operate all my standard desktop processes is too much to resist. I have to go for the UMID!
Follow me on Twitter: Chippy on Twitter.