The SWD-M100 Mondi [product page] is the WiMax device that was spotted at MWC in Feb. There in Barcelona it was seen running Windows Mobile 6.1 which didn't really get too many people excited. It looks like we might find out more soon though. Phone Scoop have found a new image on a Samsung RSS feed.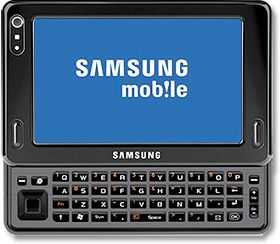 The device is potentially very interesting. If it uses a fast, Cortex-core  processor, Windows Mobile 6.5 and the new Opera Mobile 9.7 browser then it will meet a lot of wish-lists, spot-on. Until we get further info though, we're still left with the same specs as we had before:
4.3 inch touchscreen
Wimax, Wifi and Bluetooth
Dual cams ( 3M + 0.3M pixels )
Micro SD
TV out
Windows Mobile 6.1 with Opera web browser
Fingers crossed that it comes in HSDPA flavour.
Update: Samsung Mondi is now in the database with links, videos and specifications.
via Samsung's First Wimax Device Spotted (Phone Scoop).
Via JKKMobile.