The Q7 may not be a ultra mobile PC but there's a lot to like and a lot to learn from the device. It highlights the difference between professional and consumer devices very well so in this article I've mixed a review of the Q7 with some thoughts about consumer web tablets.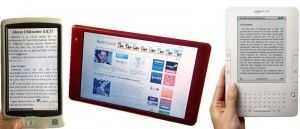 The Smart Devices Q7 has a slow, incomplete web experience, no Flash or AIR, poor video quality, very restrictive ARM11 core, runs a partially re-translated Chinese version of a year-old Ubuntu ARM port, doesn't have a keyboard, is not good for outdoor use, needs a dongle to get Bluetooth working and has some twitchy touchscreen characteristics. Despite all these scary issues, i'm still using the device many times a day.
Full Q7 specifications available here.
For me, the Q7 and the way I feel about it is reminiscent of the netbook phenomenon where low-quality devices based on old architectures suddenly find a place because of their price. It has elements of iPoditis where although a device may be slow and incomplete, if it's by your side, it's an easier option that getting up to fetch the laptop or use the desktop. The Q7 highlights how instant-on gives the user confidence despite only having advantages for sub 5-minute usage patterns and how long battery life plays an important psychological role. It also highlights that handheld tablets under 500gm/1lb and with a screen size of 7″ make a great weight/size for casual handheld use.
Lets draw comparisons with the Techcrunch Crunchpad Tablet. Mike Arrington, in his first post entitled "We want a dead simple web tablet…" said:
Here's the basic idea: The machine is as thin as possible, runs low end hardware and has a single button for powering it on and off, headphone jacks, a built in camera for video, low end speakers, and a microphone. It will have Wifi, maybe one USB port, a built in battery, half a Gigabyte of RAM, a 4-Gigabyte solid state hard drive. Data input is primarily through an iPhone-like touch screen keyboard. It runs on linux and Firefox. It would be great to have it be built entirely on open source hardware, but including Skype for VOIP and video calls may be a nice touch, too. If all you are doing is running Firefox and Skype, you don't need a lot of hardware horsepower, which will keep the cost way down.
Sounds very familiar to the Q7. My immediate response to that paragraph was "If your primary focus is Internet, you'll be looking at nothing less than a Firefox/Mozilla core and you'll want to achieve the FIE which means page loads in under ten seconds. In addition to that, you have to consider plugins. The benchmark for plugins is YouTube on Flash which requires Ghz-class X86 CPUs. Unless you're looking at Multi-core ARM11 or Cortex A8 which is going to push up your s/w dev costs, you need to be looking at Intel Atom which is certainly not cheap enough to bring you a sub $200 device."
And in the end, it looks like Mike Arrington did indeed go for Atom. He also sacrificed the $200 price point and I suspect, a whole lot of battery life by switching to Atom and a 700gm target weight but I think he's done the right thing, for business. He's focused on productivity and something that is probably targeted at the office or home office. But what about the consumer market? Is that what they want? From my experience with various consumer devices, listening to what iPod Touch owners have to say and based on a lot of home tablet, netbook and ultra mobile PC usage experience, no. The average consumer isn't as demanding as the business user.
I have one more reference point on this topic too. When I gave up (very quickly) on trying to use an Archos 605 Wifi as a mobile web tablet I bought a TV dock and put the 605 where it was meant to be. And I used it a lot. With the remote keyboard I sat back for hours reading websites and watching online media. It wasn't slow and unreliable anymore….in this scenario. The lesson learnt is that for mobile productivity you need reliability, speed, quality and availability but if time is on your side, you'll accept a whole lot of compromises and time doesn't really come into the equation, especially if the price is good.
Continued on page 2…