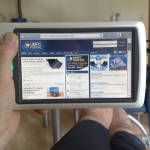 The same is true of the Q7. This 500gm, relatively slick-looking sub-$200 ($189 + shipping from China at the moment) tablet that lasts for 6-12 hours and is instant-0n, without charge, for about 2 days, isn't slow when used at home where these laid-back non-critical scenarios occur. The on-screen keyboard is fine for pecking out web site addresses, instant messages or passwords. The occasional Chinese-language notifier just gets clicked-away and because the Q7 is used on the sofa, in bed and in the kitchen, one rarely notices that the screen brightness isn't adequate for outdoor use. The lack of built-in Bluetooth isn't a problem and even the restrictive 800×480 screen is fine for relaxed browsing. It's certainly easy to read with default web-site font sizes.
It's that ease-of-use, availability, portability, easy-to-hold form factor, long battery life that works so much in the Q7's favour. As I mentioned, an 800×480 7″ screen is perfect for arms-length reading and the whole package can be held and used like a book. Which is really what it is.
The Q7 is an electronic book for the early 2000's. Web, Wifi, lightweight, long battery life, multi-format with open source software. I've use FBReader to access reference works. The PDF reader to flick through professional documents. Google reader to go through feeds and Google Docs to view and edit all sorts of things. The Image viewer to look at pictures from my cam (it makes a great photo frame!) and there's an even better bonus, it runs rdesktop which means it's a window into my quad-core Vista box that can run and display my Mobipocket reader files, complex interactive office documents and every website you can imagine. It's both thin and local client web-book. A kind of Carrypad / Pepperpad. Click through to larger versions of the images below and I think you'll agree that it looks great as a 'reader.' [Note: MobileRead have a post up. There's a good discussion happening about the Q7 and the Amazon Kindle.]
What do I think of the missing keyboard? It's the missing item that will have you reaching for the netbook if you want to get things done but would the average consumer want a keyboard on this? It would make it much more expensive, increase the weight and probably reduce the space available for battery. It's not aimed at being a productive device and therefore a keyboard would be a waste here. It hit's the mark better without it.
Continued on page 3…